Jamie shares Joburg lead
England's Jamie Elson and Ireland's Damien McGrane share the lead after day one of the Joburg Open in South Africa.
Last Updated: 12/01/12 6:42pm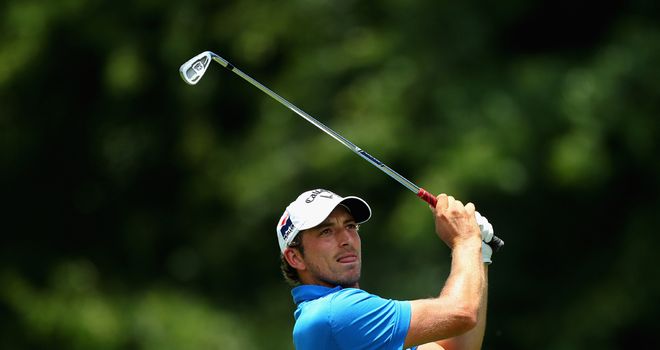 England's Jamie Elson and Ireland's Damien McGrane share the lead on eight-under after day one of the Joburg Open in South Africa.
McGrane posted his 63 early at the par 71 West Course while Elson had to endure a four-hour weather delay before joining him at the top of the leaderboard at the Royal Johannesburg and Kensington Golf Club.
The pair lead by a shot from South African duo Desvonde Botes and Peter Karmis and young Dutchman Reinier Saxton.
There were still players out on the course as the siren sounded just before 7pm local time, as a series of persistent electric storms held up play in the afternoon.
They include Masters champion Charl Schwartzel whose bid to win this tournament for a third straight year got off to a slow start as he finished on level par with three holes to play.
Elson said the weather delay didn't affect him.
"I had just hit a good shot on 16, the par-three, and there was a strong downwind," he said. "With the water short it was a pretty good shot and left myself with an eight-footer when I resumed play. I managed to knock that in and then finished well."
Off to a flyer
He started superbly too. "I got off to a flyer. I birdied the first, second, third and then chipped in at the fourth," he said. He followed with another two before the ninth to turn in 30.
Despite bogeys at 11 and 12, four more birdies saw him tie the lead and set up him perfectly for Friday's round on the more difficult East Course.
"I had a good year here last year - I think I shot six-under on the second day at the hard course, so if I can do that again it would be nice," he said.
McGrane carded five birdies in a flawless front nine of 31 and collected two more on the back nine before chipping in for an eagle on the 15th.
The only blemish on his scorecard came at the 18th with a bogey five.
"I am delighted to be in a good position after round one," McGrane said. "For the last three or four years Irish golf has been quite incredible and I think we feed off each other.
"I stacked up a few birdies during the round, but that eagle really turned my round.
"I hit plenty of fairways and holed a few nice putts for birdie, it was just the bogey at the last which was disappointing. Apart from that it was a perfect round of golf."
Botes, whose seven-under par 65 was the best round by three shots at the East Course, said he actually preferred the tougher of the two tracks.
"I've always enjoyed the East Course more," he said. "As an amateur, I played close to 65 around here."
The secret, said Botes, is accuracy. "I kept it in play and made a lot of fairways. I also made a lot of greens - I think I only missed two the whole day."
Lack of accuracy hampered Schwartzel's bid for a fast start as four birdies were wiped out by four bogeys.
But he will take solace from the fact that his victory last year was built on a superb 10-under-par 61 on the West Course on the second day.
The other major-winning South African in the field, Retief Goosen, is well placed after shooting five-under on the West, a score matched by young English star Tommy Fleetwood.