Finch stays calm amid storm
Richard Finch and Branden Grace finished a rain-shortened day three at the Joburg Open tied for the lead on 15 under.
Last Updated: 14/01/12 6:50pm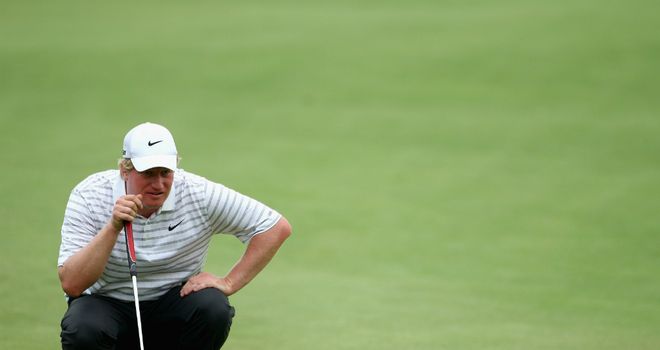 Richard Finch and Branden Grace finished a rain-shortened day three at the Joburg Open tied for top spot on 15 under.
A heavy storm hit the East Course of the Johannesburg and Kensington Golf Club with Englishman Finch having played 14 holes of his third round, one less than South Africa's Grace.
Finch had shared the lead with countryman Robert Rock and South African George Coetzee at the start of the third round, and kept his victory bid intact as Grace came through to challenge with three birdies just before play was brought to a premature halt.
The round started well for Finch as he claimed an opening-hole birdie, but he was joined by both Rock and Coetzee who also claimed birdies.
All three made par on the second but Rock paid for a short approach shot on the third and dropped a shot, Coetzee making par and Finch seeing his birdie putt lip out.
Coetzee made par on four, but when Finch dropped a shot he joined a group of six, including Rock and Retief Goosen, on 11 under.
Finch just failed with a birdie putt on the par three fifth as both Rock and Coetzee made par.
Coetzee went two ahead on the sixth hole when he kept his nerve to make a birdie after his eagle putt from near the back edge of the green was well short.
Rock held on for a scrappy par, but Finch cut the lead back to one when he rolled in a birdie to go to 12 under, one behind Coetzee.
Eagle
The round hinged on Finch's chip in from the greenside bunker on the eighth for an eagle three as Coetzee then saw his birdie putt lip out.
That brought Finch level with Coetzee on 13 under and the former then birdied again to go one ahead.
Coetzee birdied the 10th to haul himself back level with Finch.
A birdie on 13 took Finch to 15 under and as Coetzee's bid faltered it was Grace who put himself in contention.
Grace hit three birdies in a row from 13 to 15, for five in total in the round, to join Finch on 15 under when the rain got heavier and the organisers took the players off due to the threat of thunder and lightning.
Canada's Andrew Parr and Dawie van der Walt had completed their third rounds on 12 under par but van der Walt's fellow South African Jbe Kruger, on the same total, still had three holes to complete when a halt was called.
England's Danny Willett finished his third round on 11 under and was joined by Michiel Bothma and Rock, who had completed 16 and 14 holes respectively. Goosen was among a group of six players on 10 under.
Missed cut
Earlier in the day, Charl Schwartzel's bid for a third straight win at this event ended in a missed cut.
The Masters champion's second-round 68 was one too many to avoid a weekend off when the second round was finally completed on Saturday.
"It's always guesswork when you come off a break and competitive golf is always different," said Schwartzel. "But to get straight on to the point, my putting let me down.
"You're not going to be doing very well on a course where you should be going for birdies if you have 34 putts. I hit 17 greens in regulation but I was just three-under, so it was not my best effort.
"I don't have that rhythm you get from playing tournament golf week in, week out."
Coetzee's five-under 67 put him in a tie for the halfway lead on 11 under with Rock and Finch, who aced the 12th in his second-round 66.