Olesen one ahead in Abu Dhabi
Unheralded Dane Thorbjorn Olesen is the surprise leader at the halfway stage of the Abu Dhabi Championship.
Last Updated: 27/01/12 2:21pm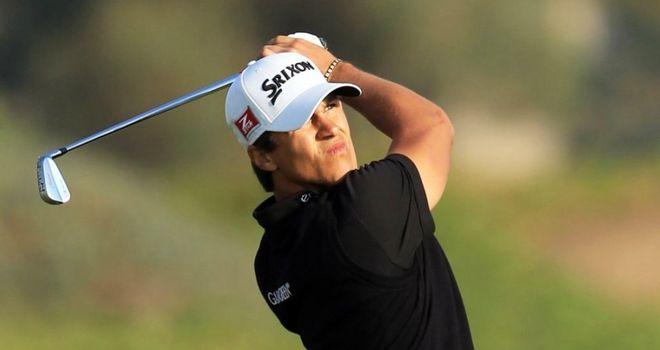 Unheralded Dane Thorbjorn Olesen is the surprise leader at the halfway stage of the Abu Dhabi Championship.
Olesen fired a five-under-par 67 to move to seven-under for the tournament and lead a star-studded field headed by Italian Matteo Mannasero and Northern Ireland's Gareth Maybin.
Olesen was out in 32 and completed a hat-trick of birdies from the eighth, but his second dropped shot of the day at the 18th halved his overnight advantage.
"Played amazing front 9 struggle (sic) a bit on back 9 but got it round nicely," the Dane wrote on his Twitter account.
The leading trio will have good reason to be looking in their wing-mirrors in Saturday's third round though, with first round leaders Rory McIlroy and Robert Karlsson as well as Tiger Woods among a host of players on five-under.
McIlroy did well to claw his way back to level par for the day after registering two double bogeys on the front nine when he incurred a two-stroke penalty on the ninth for a rules infringement.
Karlsson, by contrast, slipped up with three bogeys coming home while Woods added a 69 to his earlier 70 to be right there.
Bunkers
McIlroy was in two bunkers on the first hole and, with his ball plugged by the green, instantly dropped a shot before paying an even bigger price for going over the green at the third.
It took him two more shots to make it back to the putting surface and by missing from nine feet he ran up a double bogey.
The response was immediate with birdie putts of 20 and 18 feet and a superb bunker shot on the long eighth led to him picking up another stroke.
But the rules blunder came at the next when just off the green in two, McIlroy made the mistake of brushing away sand that was not on the putting surface and the penalty was imposed after a referee had been called.
He did well to avoid another double bogey on the 11th, holing from 14 feet after chipping over the green into a bunker, but he had birdied the long 10th and when two more came on the 12th and 14th he was only two off the lead again.
Twigged
Asked if he was guilty of a lack of concentration or simply did not know the rule, said: "I think it was a little bit of both - first week back as well.
"Luke (Donald) said 'I don't think you can do that' and then I was like 'Oh yeah I can't, can I?' It twigged on me straightaway.
"It undid all the great work I'd done after the bad start, but JP (caddie JP Fitzgerald) said 'It's only Friday, it's not as if these things are happening to you on a Sunday afternoon'.
"Tiger's not making many mistakes, is very consistent and his ball control looks good. I'm looking forward to battling with him over the weekend."
Woods birdied the first from six feet, but had his first bogey of the tournament on the third after going in bunkers off the tee and short of the green.
The former world number one, seeking back-to-back victories after going morethan two years without one, had his second birdie on the eighth, coming out of sand to eight feet and showing a better putting touch than he had in his opening 70.
He holed from 18 feet at the 11th and four feet on the next to get within one of the lead but a two at the 15th got him there before giving it straight back with a miss from 15 feet at the next.
Manassero fired a flawless round-of the day 65 to storm into contention while Britons Robert Rock and Paul Lawrie remain in contention in the group on -5.
Donald needs to make something happen in round three after a 71 left him at one under, while Lee Westwood admitted he is battling a neck injury after recording a second successive round of level par.
But defending champion and three-time winner Martin Kaymer missed the cut after improving only four shots on his opening 77.