Poulter keen to catch the eye
Ian Poulter is just as happy to talk fashion as he is golf ahead of the Ballantine's Championship in South Korea.
Last Updated: 25/04/12 8:52am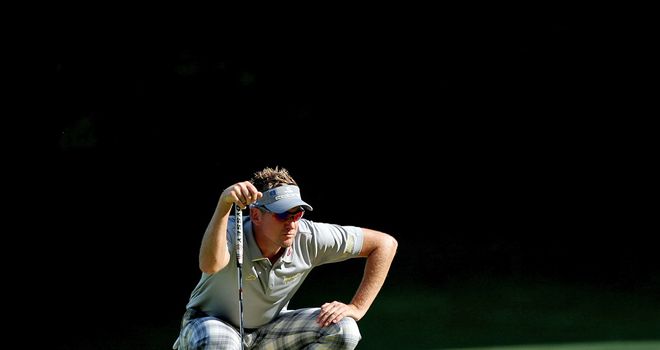 Ian Poulter is just as happy to talk fashion as he is golf ahead of this week's Ballantine's Championship in South Korea.
The Englishman's flamboyant outfits have made him something of an icon in the Far East nation and his Ian Poulter Design (IJP) is the event's official apparel this week.
"Koreans like to dress well. They like lots of colour and me being able to bring my clothing line to Korea and wear it - I think people relate to that," said Poulter after being given the opportunity to display his sports clothing range at the European-Asia Tour co-sanctioned event.
Poulter is also keen to stress that his love for clothing is a positive rather than a distraction.
"First and foremost I have been able to win more than 13 tournaments around the world so I am a good golfer. It's dead simple. But I also look good on the golf course. So I'm not going to pick one over the other. I think they both go together very well."
"Would I like to be known as a great golfer or someone who wears great, great clothes? I'd like to be known for both," Poulter said. "I'm not picking one over the other.
However, Poulter is keen to leave an impression on his Korean fans not just based on his eye for fashion. He's here to win.
Running into form
The world number 25 impressed at Augusta earlier this month when finishing tied seventh and, after a slow start, closed with a fast-finishing 66 in last week's Volvo China Open in Tianjin so there are signs that he's running into some decent form.
He missed the cut by a single shot in this event last year but said that result shouldn't be taken on face value.
"I was pushing right to the end and made an eagle at the last, unfortunately to miss the cut by a shot," he said.
"(Lee) Westwood, who made the cut on the mark, went on to win the tournament. That's how close it could have been."
"So this year, I would like to turn that around. I would like to take the good form on to the golf course and be able to have a chance to win this golf tournament.
Poulter will tee off at the picturesque Blackstone Golf Club near Seoul, alongside Spain's Miguel Angel Jimenez and Thailand's Thongchai Jaidee.
Clarke returns after marriage
Meanwhile, Open champion Darren Clarke returns to action this week after getting married in the Bahamas.
"I've had a couple of weeks on the beach. I practised a little when I was there and, you know, I'll be a bit rusty this week, but hopefully I'll get back into it," he said.
"It's been good to have a little break and get married again (Clarke's first wife Heather was 39 when she died of cancer in August 2006). I feel very lucky. But back to work again now and try to get back into my golf again.
"I've not seen the course as I only got in in the early hours of yesterday morning.
"But I've heard lots of good things about the course, especially from Lee (Westwood). It's tough, challenging but very fair. I'm looking forward to getting out and seeing what it is like."