Lynn admits to Wyndham regrets
David Lynn regrets his decision not to play in the Wyndham Championship - a move that could have cost him a Ryder Cup debut.
Last Updated: 22/08/12 10:17pm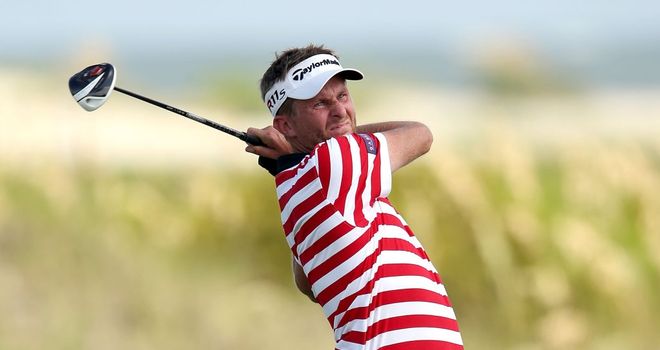 David Lynn admits he now regrets his decision not to play in last week's Wyndham Championship - a move that could have cost him a Ryder Cup debut.
Following his remarkable runner-up finish in the USPGA Championship, the 38-year-old from Stoke was offered an invite to stay on in America and compete on the PGA Tour the following week.
He turned down that opportunity in order to return to Britain but, in doing so, forfeited the chance to keep alive his unlikely Ryder Cup qualification hopes.
Had he finished joint 46th or better at the Wyndham Championship at Sedgefield Country Club, Lynn would still be in the running for an automatcic place in Europe's side.
Sergio Garcia won the event to make certain of his spot, but Lynn might well come up an agonising 0.68 world ranking points short if he wins this week's Johnnie Walker Championship at Gleneagles.
There are still two wild cards for captain Jose Maria Olazabal to hand out next Monday, but one of those is surely ear-marked for Ian Poulter and Lynn fears his lack of experience will count against him.
"In hindsight I made a mistake - I should have played last week," Lynn said.
"But I think I can be forgiven because of where my head was at."
He was approached by a PGA Tour official soon after he had given the performance of his life at Kiawah Island - it earned him over £557,000 and a place in The Masters - to be told his top 10 finish qualified him for the Wyndham.
"I said I was going home. I was prepared for being out there for one week, not two, and I'm a bit like that when I get something in my head," Lynn continued.
"I actually got a lift with Padraig Harrington to New York on his private plane and he was asking me why on earth didn't I go.
Needed some advice
"Jamie Donaldson had also mentioned it to me on the range before the final round (the Irish Open champion did play in Greensboro), but it was only when I got home and looked at the way the points were that I realised I should have gone.
"It was probably a time when I needed somebody at my side saying 'Hang on a minute'."
The world ranking points on offer at Gleneagles were enough to lift Lynn from 13th into the 10th and last automatic spot until Swede Peter Hanson, now sure of his second cap, withdrew on Monday afternoon.
First place points came down from 32 to 30 as a result and neither Lynn nor Spaniard Rafa Cabrera Bello can now catch 10th-placed Martin Kaymer - only Belgian Nicolas Colsaerts can with a top two finish.
"I guess if I win it puts forward a good case (for a wild card) on current form," Lynn added.
"But there's guys you have to look at like Harrington - I know he didn't have a great match by his standards last time (he has actually won only two of his last 13 games), but he's still a guy you can't overlook because he's won three majors and has played a few Ryder Cups.
"Would you pick a rookie over experience? Experience means a lot, I think."
It is actually uncapped Colsaerts, the Volvo World Match Play champion, rather than Harrington who is being widely tipped for a wild card if he does not get in automatically.
Just to be part of the conversation shows what Lynn has achieved, however.
"It's nice to be talked about, but I always knew at the start of the Ryder Cup campaign that you've got no chance of playing when you're not in all four majors and all four world championships," he said.
"You're giving too many good players too much of a head start. I played in one out of the eight - and got in that only just."