Gleneagles stat pack
A preview and stats for this week's Johnnie Walker Championship at Gleneagles in Scotland.
Last Updated: 22/08/12 8:07am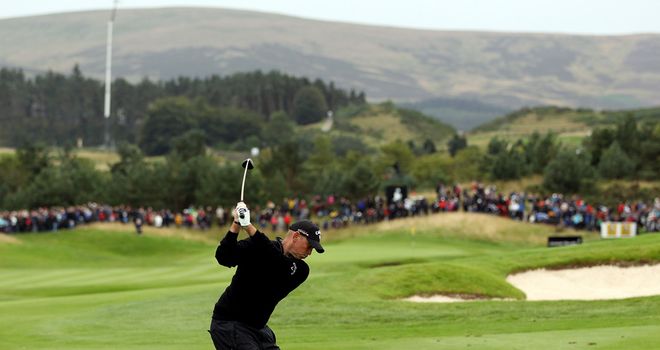 For a 14th straight year, the Johnnie Walker Championship will be held over the Centenary Course at Gleneagles.
Designed by Jack Nicklaus and opened in May 1993, the Centenary will host the 2014 Ryder Cup.
And this week's event is the final opportunity for Europe's top golfers to qualify for next month's biennial team competition in Chicago.
By Sunday evening, 10 players will have earned the right to represent Europe at Medinah, with skipper Jose Maria Olazabal adding two wildcards to fill out his 12-strong team.
Set in the lowlands of Perthshire, and situated 16 miles south-west of the town of Perth, the Centenary Course is undulating and is a good all-round test of golf.
So who's teeing-up at this picturesque location?
Simon Dyson: The Englishman has a decent record in this event and played well this time last year.
Stephen Gallacher: Top-20 finishes in his most recent three trips to the Centenary Course and would love to perform well on home turf.
David Lynn: Will be hoping to carry on where he left off at Kiawah Island recently, when he finished second in the PGA Championship behind Rory McIlroy. Could a win here get him a captain's pick for the Ryder Cup?
Francesco Molinari: Scotland owes him a victory this year following the disappointment of losing the Scottish Open at Castle Stuart in July. It was a tournament he had led from day one, only to lose in a play-off.
Chris Wood: Should be full of confidence following his maiden professional triumph in Asia earlier this month. He tied for 15th at Gleneagles 12 months ago.
SELECTED PLAYERS with GOOD to REASONABLE FORM at GLENEAGLES
Last Eight Years
Player: '04 / '05 / '06 / '07 / '08 / '09 / '10 / '11
Thomas Bjorn: - / - / 4 / - / - / MC / MC / Won
Gregory Bourdy: - / 17 / MC / 56 / 32 / 6 / 10 / -
Gary Boyd: - / - / - / - / - / - / 14 / 11
Paul Casey: - / 23 / Won / 60 / - / - / - / -
Nicolas Colsaerts: Dq / 2 / MC / 21 / - / - / 61 / -
Christopher Doak: - / 33 / MC / MC / - / 19 / - / 22
Bradley Dredge: MC / 2 / 52 / MC / 7 / 31 / 7 / 26
Simon Dyson: MC / 73 / 11 / - / 18 / 56 / 6 / 15
Kenneth Ferrie: MC / 46 / 9 / MC / - / - / MC / 8
Ross Fisher: - / - / 28 / MC / 10 / - / 14 / MC
Mark Foster: MC / 33 / MC / 21 / 10 / MC / 35 / 2
Stephen Gallacher: 10 / Ret / MC / 33 / 10 / - / 14 / 6
Ricardo Gonzalez: - / - / - / 7 / 32 / 16 / 48 / Dq
Gregory Havret: - / 54 / - / MC / Won / 3 / MC / MC
Peter Hedblom: 28 / - / - / - / MC / Won / 26 / -
David Howell: 22 / - / - / - / 3 / MC / Dq / MC
Raphael Jacquelin: 28 / 8 / - / - / MC / 10 / MC / 31
David Lynn: 5 / 2 / 28 / 14 / 44 / 10 / 19 / MC
Paul McGinley: 7 / - / 22 / - / 19 / MC / 35 / MC
Damien McGrane: MC / 17 / 63 / MC / MC / 14 / 7 / 31
Francesco Molinari: - / 6 / MC / 9 / 19 / - / 3 / 44
Colin Montgomerie: 22 / Ret / 4 / 9 / 38 / 31 / MC / 64
Steven O'Hara: 3 / MC / MC / 7 / - / 6 / 19 / MC
Gary Orr: MC / 8 / 19 / - / 29 / 5 / - / 26
Robert Rock: Wd / MC / 11 / MC / 29 / - / 19 / MC
Brett Rumford: 61 / Wd / 7 / 33 / - / MC / 2 / MC
Marcel Siem: - / Ret / MC / Ret / 5 / MC / 7 / Ret
Graeme Storm: - / 54 / 32 / 5 / 2 / 14 / 59 / MC
Anthony Wall: 10 / MC / 42 / 26 / 7 / 31 / MC / Wd
Marc Warren: 51 / MC / 19 / Won / MC / MC / 56 / 11
Oliver Wilson: - / 17 / - / MC / 10 / 27 / 14 / 38
SELECTED PLAYERS with POOR to MEDICORE FORM at GLENEAGLES
Last Eight Years
(No Top-30 Finishes from three or more starts)
Player: '04 / '05 / '06 / '07 / '08 / '09 / '10 / '11
Rafael Cabrera-Bello: - / - / - / MC / - / MC / MC / -
Alejandro Canizares: - / - / - / - / MC / MC / - / 38
David Drysdale: 33 / 62 / 47 / Ret / MC / MC / - / MC
Darren Fichardt: - / 62 / MC / 50 / MC / - / - / -
Richard Finch: - / 37 / MC / 56 / MC / 37 / 51 / MC
Marcus Fraser: 42 / - / 32 / MC / 56 / 63 / - / MC
Jean-Baptiste Gonnet: - / - / - / MC / MC / 45 / MC / MC
Tano Goya: - / - / - / - / - / MC / MC / 31
Mikko Ilonen: MC / MC / - / - / MC / 51 / - / -
Simon Khan: - / MC / - / MC / MC / 45 / - / MC
Jose Manuel Lara: - / 73 / MC / - / 32 / MC / MC / -
Mikael Lundberg: - / - / - / - / MC / Dq / MC / MC
Pablo Martin: - / - / - / - / MC / 61 / MC / MC
George Murray: - / MC / - / - / - / - / MC / MC
Phillip Price: - / - / Wd / 43 / MC / MC / 42 / MC
Richie Ramsay: - / - / - / - / - / 31 / MC / 44
Jeev Milkha Singh: - / - / - / 53 / - / - / 42 / MC
Peter Whiteford: - / - / MC / - / 38 / - / MC / MC
TOP-10 Finishers from 2011 (Not Already Listed)
Pablo Larrazabal: (T-2nd)
Joel Sjoholm: (T-6th)
Victor Dubuisson: (T-8th)
Ignacio Garrido: (T-8th)
LOWEST 12 STROKE AVERAGES at GLENEAGLES
(Last Four Years - 2008/11)
Average (Rounds)
70.67: Stephen Gallacher (12)
70.75: Gary Boyd (8)
71.08: Gary Orr (12)
71.13: Christopher Doak (8)
71.17: Gregory Bourdy (12)
71.17: Gregory Havret (12)
71.19: Bradley Dredge (16)
71.20: Peter Hedblom (10)
71.21: Mark Foster (14)
71.33: Francesco Molinari (12)
(Min. No. of Rounds = 8)
LOWEST ROUNDS over the CENTENARY COURSE at GLENEAGLES
62: Martin Erlandsson (2009)
63: Pierre Fulke (2000)
63: Adam Scott (2002)
64: Five times
Gleneagles (Centenary Course): Par 72; 7,060 yards
Winning Totals (Last Three Years):
2011 - 277 (Thomas Bjorn)
2010 - 278 (Edoardo Molinari)
2009 - 275 (Peter Hedblom)