Clarke praises Gleneagles
Darren Clarke has warmed to Gleneagles after previously blasting the course chosen to host the 2014 Ryder Cup.
Last Updated: 22/08/12 2:34pm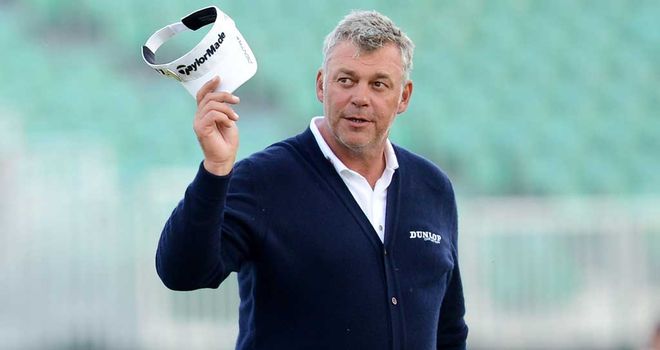 Darren Clarke appears to have warmed to Gleneagles after previously blasting the course chosen to host the 2014 Ryder Cup.
Before playing the pro-am on the eve of the Johnnie Walker Championship Clarke commented: "I've heard all about the changes they have done.
"I haven't played all of them yet, but the ones that I saw yesterday certainly were massive improvements.
"With this whole sub-air system that they have put in, it will suck the moisture out of the greens and they will be much, much better."
After a first-round 73 in 2007 the Northern Irishman tore into the PGA Centenary Course, the lay-out selected for the first Ryder Cup in Scotland since 1973.
"I think it is unbelievable," Clarke said then. "There are even two better ones here at Gleneagles.
"Scotland is the home of golf and we should not be playing on an American-style course - it's beyond my comprehension."
In addition to improving the drainage original designer Jack Nicklaus was brought back in and made changes, most significantly to the ninth and 18th holes.
Clarke last played in the event in 2008, but his return now is being linked to the fact that he is seen as a leading candidate - along with fellow Irishman Paul McGinley - to be Europe's captain in two years' time.
Both have just been appointed along with Thomas Bjorn as three of Jose Maria Olazabal's four assistants for next month's match in Chicago and all three fulfilled the same role in the 2010 win in Wales.
Future captain?
"Is my hat in now? I think it's a case of if the Ryder Cup committee were to ask me to be captain then I think it would be disrespectful to say 'no', wherever they asked me," he said.
"My hat has never been out of it. I still hope to play a little bit more yet, but if I was asked it would be a very tough position to say 'no'."
On the same subject McGinley, who has twice led Britain and Ireland to victory over Continental Europe in the Seve Trophy, said: "I prefer not to talk about that at the moment.
"I think we have to respect this Ryder Cup and respect this captain and I think it's important we stay focused on that.
"This is a really, really tough challenge and there will be plenty of time to talk about 2014 afterwards."
The decision on the next captain is likely to be taken in January and Colin Montgomerie, who led Europe to victory last time, has reiterated that, if asked, he would do it again on home soil.
That was always his hope until the players' committee turned to him and asked him to be captain in Wales.
"If the Tour want me to do it again I will do it gladly," he said on Wednesday. "But I will not be putting my name forward."