Colsaerts boosts Cup hopes
The battle to make Europe's Ryder Cup team intensified on both sides of the Atlantic on Thursday.
Last Updated: 23/08/12 8:39pm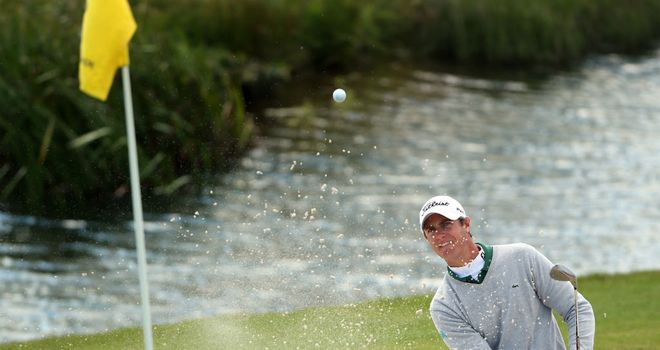 The battle to make Europe's Ryder Cup team intensified on both sides of the Atlantic on Thursday.
While Nicolas Colsaerts, who needs a top-two finish in the Johnnie Walker Classic at Gleneagles to earn himself a cup debut, shot a promising three-under 69, Padraig Harrington posted the clubhouse lead of 64 at The Barclays in New York to boost his hopes of a wildcard pick.
Colsaerts' 69 left him two behind joint leaders Aussie Brett Rumford and little-known Norwegian Knut Borsheim - both shot five-under 67s - and the Belgian was more than happy with his position.
Colsaerts, thought to be in with a great chance of being picked along with Ian Poulter if he fails in his bid for an automatic spot, said: "It was exactly the day I wanted, being in control of what I was doing.
"I'm very pleased with how I handled myself," said the 29-year-old Volvo World Match Play champion.
Colsaerts had an early bogey, but then produced five birdies in seven holes around the turn and also sank a 20-foot putt for par during that run.
He led on his own for a while, but missed a three-foot par putt at the seventh - his 15th - and could not add to his birdie tally in the last eight holes.
European Ryder Cup skipper Jose Maria Olazabal is at Gleneagles this week and said of Colsaerts' fine opening: "It's a solid start. He still has work to do and we will see what he does."
Olazabal was also told of Harrington's 64 and was reminded that two weeks ago he said the Dubliner needed to do something extraordinary to make the side.
So what now constitutes extraordinary? "At least a win," Olazabal replied with a smile.
He also commented on the absence from the event of Martin Kaymer, who is under threat at 10th in the points table, but opened the door to Colsaerts by taking the week off.
Should the German drop into a position where he too requires a wildcard, Olazabal insists he will not hold it against him that he missed the final week of the race.
Won't count against Kaymer
"It won't count against him. I've always made that clear," said the Spaniard.
Leaders Rumford and Borsheim go into the second round one ahead of a group which includes Scot Paul Lawrie and Italian Francesco Molinari, the only two players in the field who already know they will be facing the Americans in Chicago next month.