Italian stat pack
A preview and stats for this week's European Tour event - the BMW Italian Open at Royal Park near Turin.
Last Updated: 12/09/12 9:20am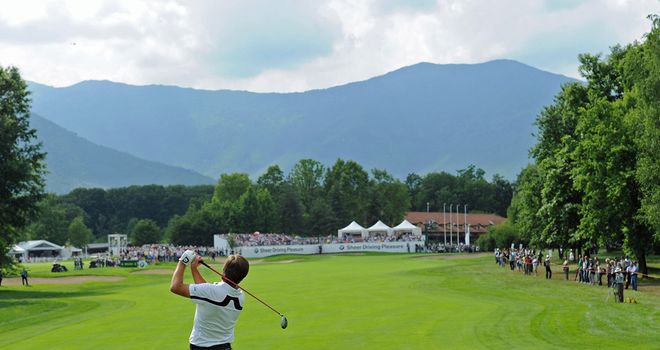 The BMW Italian Open heads back to Royal Park for a fourth year in a row.
Situated 12 miles north-west of Turin, this tree-lined layout has reasonably undulating putting surfaces and fairly generous fairways.
Although there are no great expanses of water, ditches do come into play on 12 holes.
The 41-year-old course - designed by famed architect Robert Trent Jones senior - offers some excellent panoramic views of the Alps.
So who's teeing-up?
Nicolas Colsaerts: Last stop before Medinah where the Belgian will make his Ryder Cup debut. At Hilversum last week the 29-year-old finished in a tie for 8th.
Matteo Manassero: No Tour victory in 17 months but five top-10s this season. The young Italian was tied 8th at Royal Park last year when the event was staged during May.
Francesco Molinari: Will tee it up as the home favourite hoping to claim his second Italian Open title. The first arrived in 2006 while a brace of appearances in Turin have both produced top 10 finishes.
Thorbjorn Olesen: The up-and-coming Dane was second on his Turin debut last year. He enjoyed his maiden Tour victory in Sicily earlier in the season.
Robert Rock: Although he has failed to post a single strokeplay top 10 since winning in Abu Dhabi back in January, the midlander has an excellent record at Royal Park. Not only is he the defending champion, he was also a runner-up here three years ago.
Peter Whiteford: Fourth last year, the 32-year-old Scot will need to improve on last week's performance in Holland where he missed the cut.
SELECTED PLAYERS with GOOD to REASONABLE FORM at ROYAL PARK
Tour History
Player: '09 / '10 / '11
Thomas Aiken: 5 / 22 / -
Fredrik Andersson: 54 / Won / 15
Gregory Bourdy: - / 22 / 11
Alejandro Canizares: 14 / 10 / 33
Dave Horsey: - / 2 / 23
Pablo Larrazabal: - / 32 / 11
Joost Luiten: - / 32 / 5
Matteo Manassero: 25 / 29 / 8
Francesco Molinari: 6 / - / 8
Edoardo Molinari: 17 / 13 / -
Andrea Pavan: - / 22 / 23
Phillip Price: - / 22 / 28
Richie Ramsay: 14 / 13 / 15
Robert Rock: 2 / 17 / Won
Lee Slattery: 21 / MC / 23
Anthony Wall: 42 / 10 / 15
Peter Whiteford: MC / 13 / 4
Chris Wood: - / 3 / 23
SELECTED PLAYERS with POOR to MEDICORE FORM at ROYAL PARK
Tour History
(No Top-50 Finish from two or more starts at Royal Park)
Player: '09 / '10 / '11
Richard Bland: MC / - / MC
Markus Brier: MC / MC / MC
Rafael Cabrera-Bello: - / MC / 67
Emanuele Canonica: MC / MC / 57
Federico Colombo: MC / MC / MC
Bradley Dredge: MC / 52 / MC
Kenneth Ferrie: MC / MC / -
Ricardo Gonzalez: MC / MC / -
Gregory Havret: 54 / MC / -
Mikko Ilonen: 59 / - / 52
Simon Khan: MC / MC / -
Thomas Levet: MC / MC / -
Sam Little: MC / MC / -
Andrea Maestroni: - / 64 / MC
Gregory Molteni: MC / MC / MC
Colin Montgomerie: MC / MC / MC
James Morrison: - / MC / MC
Christian Nilsson: MC / MC / -
Costantino Rocca: MC / MC / MC
Brett Rumford: 70 / MC / 57
Marc Warren: 67 / MC / MC
TOP 10 Finishers from 2011 (Not Already Listed)
Gary Boyd: (T-2nd)
Thorbjorn Olesen: (T-2nd)
Niclas Fasth: (T-6th)
Michael Jonzon: (T-6th)
LOWEST 12 STROKE AVERAGES at ROYAL PARK
(Tour History - 2009/11)
Average (Rounds)
68.38: Francesco Molinari (8)
68.42: Robert Rock (12)
68.63: Dave Horsey (8)
68.88: Chris Wood (8)
69.17: Fredrik Andersson (12)
69.25: Joost Luiten (8)
69.38: Gregory Bourdy (8)
69.40: Peter Whiteford (10)
69.42: Alejandro Canizares (12)
69.50: Thomas Aiken (8)
69.50: Gary Boyd (8)
69.50: Niclas Fasth (6)
(Min. No. of Rounds = 6)
LOWEST ROUNDS at ROYAL PARK
62: Victor Dubuisson (2011)
62: Thorbjorn Olesen (2011)
63: Fredrik Andersson (2010)
64: Eight times
Royal Park (Turin): Par 72; 7,282 yards
Winning Totals:
2011 - 267 (Robert Rock)
2010 - 272 (Fredrik Andersson)2009 - 267 (Daniel Vancsik)