Matteo to enjoy home comforts
Matteo Manassero admits he is looking forward to a "special week" when he tees up on home soil at the BMW Italian Open.
Last Updated: 12/09/12 1:17pm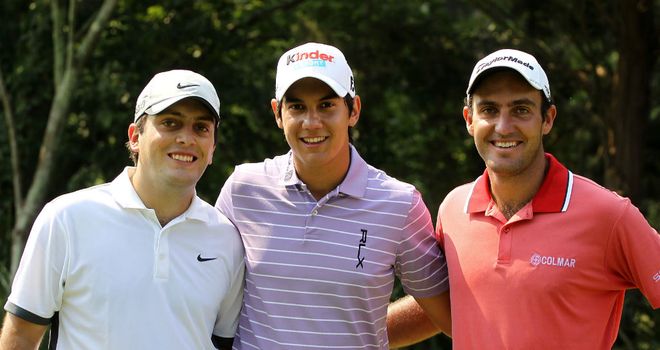 Matteo Manassero admits he is looking forward to a "special week" when he tees up on home soil at the BMW Italian Open.
The 19-year-old is one of the brightest young stars in European golf having already posted two victories on Tour.
This week he will attempt to add his national title to his CV when the action gets underway at the Royal Park I Roveri club in Turin.
Manassero finished eighth in the event last year and is hoping the backing of local fans can push him on to an even better performance this year.
"As Italian players this is always a big event for us and we always look forward to it," he told the European Tour's website. "It is great fun for the crowd and great fun for us. I've played in three now and I really want to do well in it.
"I feel a little bit of added pressure but the support also really helps you.
"The course is one of the best in Italy. I know it well because I have played it many, many times, so I feel confident about doing well there.
Typical Italian course
"It's a nice layout with some tricky tee shots, and the greens are always in good condition. The rough is usually quite high and sticky, so it's not easy to chip around the greens and when you miss the fairways it's quite severe.
"It's a typical Italian course, but players from any country will enjoy it.
"I know the course very well, and when you are very familiar with a course it gives you confidence. Knowing which shots to play off tees and into greens is a big advantage.
"Last year I remember I didn't putt as well as I could have done, so this year I will be trying hard to be in great shape and get a better result."
As well as Manassero, Italian brothers Francesco and Edoardo Molinari will also be competing and the siblings will both be looking for confidence-boosting showings, although for differing reasons.
Francesco will be looking to fine-tune his game in what will be his last competitive outing before the Ryder Cup, while Edoardo will make his first appearance since June having been sidelined by a wrist injury.
"It is going to be a special week for us all," continued Manassero.
"Everybody is looking forward to seeing Edoardo back and we will all be welcoming him again. Francesco has had an amazing year and he wants to do well before The Ryder Cup."