Martin Kaymer's nerve holds at the last to trigger European Ryder Cup celebrations at Medinah
Martin Kaymer secured the point that retained the Ryder Cup for Europe with a one-up victory over Steve Stricker.
Last Updated: 01/10/12 6:27am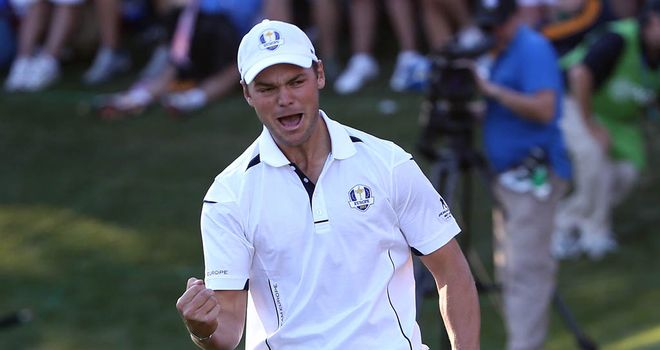 Kaymer evoked memories of his German mentor Bernhard Langer from 19 years ago as he stood over a six-foot putt on the final green that would decide the destination of the trophy.
But unlike Langer, Kaymer found the centre of the cup to seal his first win of the contest and the decisive 14th point for the holders, while Stricker remained without a point from his four matches.
The American made an encouraging start when he birdied the short second to take an early lead, and he matched Kaymer's birdie at the fifth before he bogeyed the next to give a hole back.
Kaymer birdied the ninth to turn one up, but Stricker replied at the next and a scrappy 11th hole was halved in bogey-fives.
The German's par at 12 was enough to reclaim the lead, which he relinquished immediately after his tee shot to the 13th found the water.
He responded to birdie the next before failing to save par at 15 following a poor effort from the fringe, but he reclaimed the lead for the fourth time when he rapped home a four-footer for par at 17.
Kaymer's nerve faltered on the final green when he raced his birdie putt six feet past the cup, and Stricker asked a huge question when he drained a 10-footer for his par.
But Kaymer held his composure together and drilled home a confident putt to spark emotional celebrations in the European camp.
"It's a feeling I've never had before," Kaymer said. "On Friday I sat down with Bernhard Langer and talked to him about the Ryder Cup because my attitude was not the right one, but after that I know how important the Ryder Cup is."
Asked to compare the win to his PGA Championship triumph in 2010, Kaymer added: "It's a completely different level. The major was just for me. Here, my brother and father were here and now I know how great it feels to win the Ryder Cup."
Stricker said: "I feel I am disappointed that I let the 11 other players down and the captain.
"Towards the end of the season I played well, I was really only one birdie short of making the team on my own, so I felt I like deserved to be on the team.
"I felt like my game was in good shape and I drove the ball great, hit some nice irons here and there, but not really consistent enough to put points on the board.
"Martin played well today and I just really didn't. I didn't put enough pressure on him to get anything done."