An emotional Jose Maria Olazabal said belief was the key to Europe's fightback in the Ryder Cup
Europe captain Jose Maria Olazabal was understandably emotional after watching his side retain the Ryder Cup.
Last Updated: 01/10/12 8:31am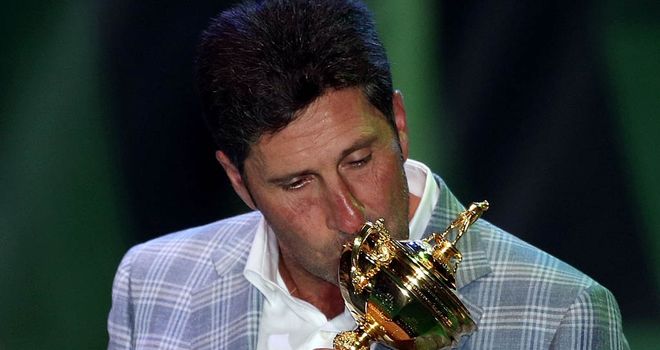 The away team won Sunday's singles 8½-3½ to hand Olazabal a sensational victory over the United States that seemed but a distant dream on Saturday night.
And once again he evoked the spirit of the late Seve Ballesteros as he praised all those involved in retaining the trophy.
"It means a lot - not just for me," he said. "This is for the whole of Europe, all those 12 wonderful men, my four vice-captains and that band of caddies.
"Seve will always be present with this team. He was a big factor for this event and last night when we had that meeting I think the boys understood that believing was the big thing.
"It's been a tough week. Until today nothing went our way - we struggled on the greens, but this morning I felt we were a little better in that regard.
"I've been under pressure hitting shots, but today tops that."
Opposite number Davis Love admitted there was little more he could have done to deliver America a second victory in three events.
"I wouldn't have done anything different," he said of his team. "They played great. We had a couple of matches get flipped there at the end that made it a little easier on them.
"This is a great team, we had a great week. We played together as a team and we said we wanted to win every segment.
"But we got beaten badly in this one, and any time you lose a segment that badly it is going to cost you the Ryder Cup."