Sergio Garcia believes the United States failed to deal with the pressure during Sunday's Ryder Cup singles
Sergio Garcia said the United States team failed to deal with the pressure during Sunday's thrilling Ryder Cup singles.
Last Updated: 02/10/12 8:15am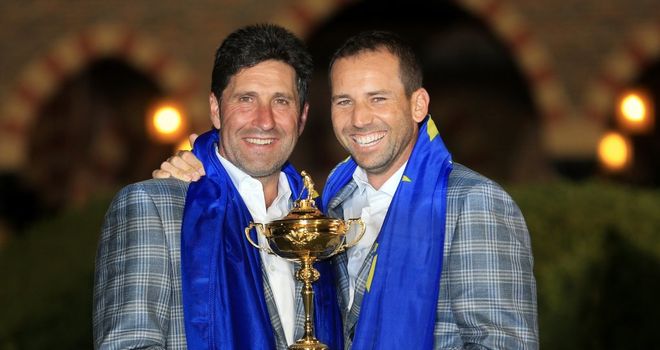 The home team had everything their way over the first two days of the team event at Medinah, leading 10-6 heading into the singles matches.
But the European team was stacked at the top and the players duly responded by winning the first five matches, eventually eking out victory by a point.
And Garcia, who beat Jim Furyk on the 18th green, believes the United States showed their true colours in the heat of Sunday's battle.
"We knew if we got going early we needed to put the American team in a situation where we wanted to see how they felt with a bit more pressure on," he said.
"Obviously everything was going their way throughout the whole week. They were making the putts, they were getting the good breaks here and there.
"We were just waiting to change that a little bit and see if we could do the same thing they did to us in '99 and see how they could react against that.
"I have been in that position, Lee (Westwood) has been in that position, Jose has been in that position, obviously Paul (Lawrie) has been in that position and we know how it feels - it's not easy.
"It was a combination of playing great and maybe then that little bit of pressure getting to them."