Martin Kaymer admits he feels fortunate to have holed the crucial putt at the Ryder Cup
Martin Kaymer has admitted he feels fortunate to have holed the all-important putt at last week's Ryder Cup.
Last Updated: 03/10/12 6:11pm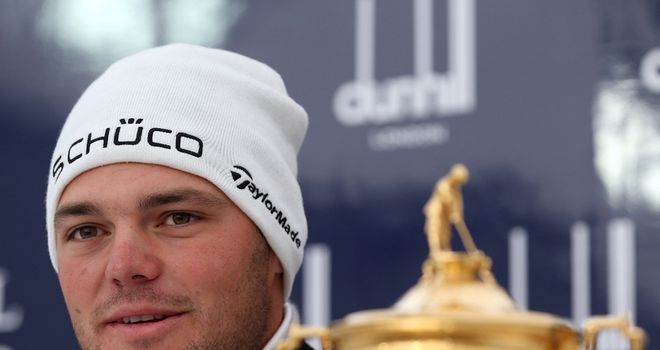 The German showed nerves of steel at Medinah to sink a six-footer that secured Europe the all-important point that ensured they would retain their trophy in Chicago.
Kaymer concedes he was not far from a lifetime of infamy having knocked his approach putt some way past the hole, but can now look back on the process with a real sense of pleasure and achievement.
"It was such a fine line and fortunately it went the right way," stated the 27-year-old ahead of this week's Alfred Dunhill Links Championship in Scotland.
Explaining the rather heavy-handed first putt on that final green last Sunday, he revealed he had told caddie Craig Connolly before his birdie attempt: "I want to make that putt - I want the ultimate thrill.
"I think that was a good attitude at that stage. You don't want to just hit close to the hole and then knock it in.
"Even though it was more difficult in the end, it was an even better feeling.
"Of course it was a lot of pressure, but I see it more like a gift what happened. It's very, very rare that you are in a position as a golf player to make such an important putt.
Thankful
"There will never, ever, be a more important putt in my life. Even if I have a chance in two years' time again I've done it before already.
"I'm just very thankful that I got the possibility to go through those moments and to experience all of the things that I did.
"It's very difficult to describe. You're just so much in that moment. Fortunately it worked out."
On meeting his brother after the drama, Kaymer admitted he had one big concern - how had he looked on television after sinking the cup-clinching putt.
"You can see my emotions," he continued. "It was on a completely different level to the PGA (his major victory in 2010). I asked my brother 'Did I look ridiculous?' because I was in a complete new zone.
"I have never seen myself like this. I have never reacted like this.
"He said 'No, you're fine and even if you looked ridiculous it's a good thing because it comes natural. It's how you felt, it's a true feeling, it doesn't matter'.
"I've watched it a few times on tv and YouTube and stuff. Yeah, it didn't look that bad!"