Ross Fisher fights off injury to lead Portugal Masters by three shots
Ross Fisher admitted an injury picked up on the first tee almost saw him pull out of the Portugal Masters.
Last Updated: 13/10/12 11:08am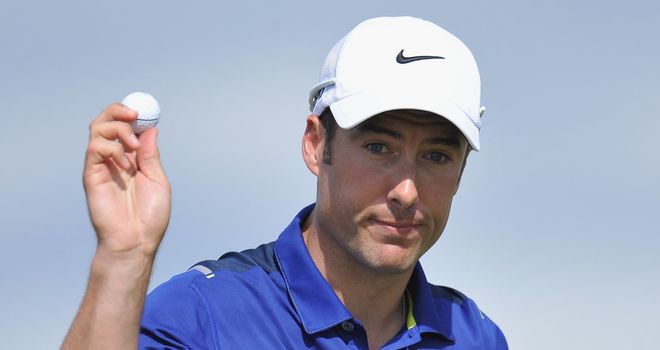 Fisher slipped walking off the first tee box at the Portugal Masters, and although initially he thought he might have to walk off the course, he had his ankle strapped and was able to card a 67 to finish on ten-under to lead by three.
"It was pretty tricky out there with the wind, and unfortunately I made it even harder for myself as I had a nice little mishap walking off the first tee, I just put my left foot down and it kind of slid to the left," Fisher told Sky Sports after his round.
"I didn't really think anything of it, I played the first two or three holes and it was ok, but then it really started to feel sore - I was saying to my caddy who said if it was causing me too much grief then just not to play.
"We managed to speak to the rules official, called the physio Jesper over and he guaranteed I wouldn't do anymore damage to it and strapped it up, it was a bit uncomfortable to start with but for at least seven or eight holes it was okay, but I really felt it again in the last couple of holes so I was just relieved to get through it and to be three in the lead is very pleasing.
"It was on my left foot so it was tough, I didn't think I'd feel it as much as I did even on short shots and on chips it was really difficult to get right through the ball.
"So it was a challenge then picking the right club because we'd pick a club but 'if I'm not swinging it 100 percent do I just trust it and swing at it hard'? My balance wasn't too good at times as you'd see on the TV, but I managed to grind it out and get a good score."
After a big slump in from following his Ryder Cup appearance at Celtic Manor in 2010, Fisher is slowly showing signs of a return to his best.
"I went through a pretty poor spell, a come down after the Ryder Cup maybe, and last year was disappointing. This year, changing to Nike, it's taken a little bit longer than I would've liked to get used to it but I'm really comfortable now with what I'm doing and what the guys are doing behind the scenes.
"I had a nice little run in the summer in Wales, Sweden and Germany, got myself in the Open so the signs were there and last week at the Dunhill I took a lot of positives from that and then coming here I really like it in Portugal and it feels like a really relaxed week."