Adam Scott doesn't see any reason for long putters being banned from golf
Adam Scott had his say on the long putter debate after the opening round of the WGC-HSBC Champions.
Last Updated: 01/11/12 1:26pm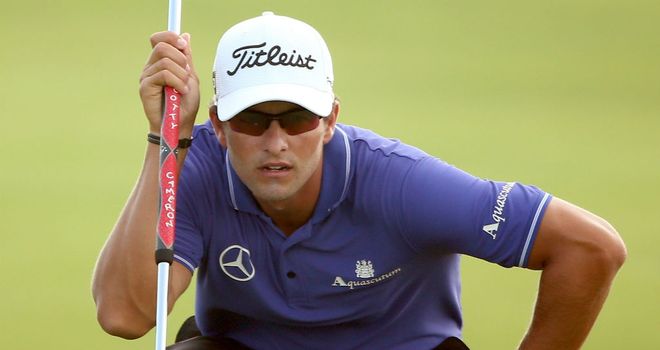 The Australian enjoyed a flying finish to his first 18 holes in Shenzhen, picking up four shots in the last three to join Louis Oosthuizen at the top of the leaderboard.
Scott's form has improved since he moved to the long putter and he was critical of golf's governing body, who have talked about banning them and are expected to make a statement in the next few months.
"What's their criteria for having a look at it? No-one's given me a good reason yet," Scott said.
"I'd still be surprised if they could completely outlaw anchoring putting, but you'd have to deal with that if it were to be brought in.
"For me personally I don't feel it's as big a deal maybe as for some others. I've played at a high level with both styles of putting.
"If you look at the stats this year it doesn't say I'm putting that much better, but I enjoy playing golf with the long one.
"You have to read the green and you have to hit it at the right speed. All of putting is still a learned skill no matter what way you do it."
On his round, he added: "It was a solid day that all of a sudden turned into a really good day. With five par fives it sets up well for my game and the plan is to just take advantage of them and hopefully hang in there with the leaders all week."
Oosthuizen added: "I don't think I saw a really low number out there but once you look at the leaderboard and see the guys are firing it up, all of a sudden you started seeing birdies.
"I made five birdies on the par fives and that got the round going. I hit a few bad iron shots, but made good up-and-downs for pars.
"You need to make putts. I've made a few nice ones today and that's normally the thing I struggle with."
In-form Shane Lowry couldn't match Scott's finish, dropping two late shots to fall into a tie for third with Peter Hanson, but he is still feeling positive ahead of the remaining 54 holes.
The Irishman said: "Obviously I'm very disappointed bogeying the last two. I felt like I had the ball on a string all day and felt like it came very easy to me today.
"But six under is a good score out there and I'm looking forward to the next few days."