Nelson Mandela Championship: Start delayed until Friday at Royal Durban Golf Club
The start of the inaugural Nelson Mandela Championship has been postponed until Friday due to a waterlogged course.
Last Updated: 07/12/12 7:14am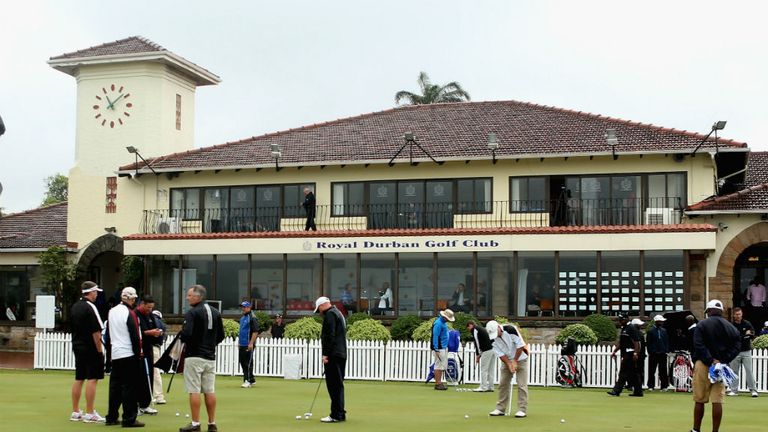 The Royal Durban Golf Club was set to stage the official opening event of the 2013 Race to Dubai on the European Tour, but they will now have to wait 24 hours for their big moment.
Rain around the area had already made conditions on the soggy side but more heavy rain made conditions unplayable on the course, which is situated inside the Greyville Racecourse circuit.
Just 11 days after Rory McIlroy claimed the European Tour honours, the Race to Dubai starts all over again with the first of six South African events being the new tournament arranged in Durban.
Thursday's initial tee-times will now be switched to Friday, meaning Challenge Tour Number One Espen Kofstad will still get the honour of officially starting the 2013 European Tour season when he hits the opening tee shot on Friday morning.
Tournament director Mikael Eriksson told Sky Sports: "The fairways are very waterlogged. The course hasn't improved as much as we hoped it would overnight and further rain early this morning put us back another few hours.
"The forecast wasn't bad at all for today and we hoped the course might have dried out a little bit more, but it hasn't actually.
"We tried early this morning to shorten the golf course - made a couple of par fours into par threes, one par five into a par three as well - in an attempt to start, but with the additional rain as we were trying to restart it didn't work.
"The good scenario is that we start at 6.30am on Friday morning, play the first round tomorrow, the second on Saturday, have a cut and then go from there. We are still hoping to get 72 holes in.
"The tees and greens are not a problem - they are fine. It's the fairways and rough that are bad. I'm hoping the sun is going to come out, but there could be some more rain on the way this afternoon."