Dunhill stat pack
A form guide and some key stats for this week's Alfred Dunhill Championship at Leopard Creek.
Last Updated: 12/12/12 12:05pm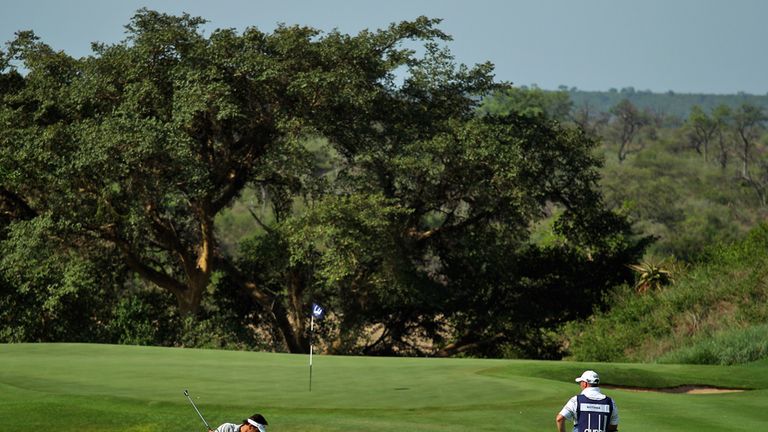 Leopard Creek hosts a co-sanctioned European Tour event for a ninth straight year.
It will also be the third of seven tournaments to be staged in South Africa between November and the first week of March 2013 on the European Tour's International Schedule.
Here are some previews stats relating to the year-ending event ....
SELECTED PLAYERS with GOOD to REASONABLE FORM at LEOPARD CREEK
Full Tour History
Player: '04 / '05 / '06 / '07 / '08 / '09 / '10 / '11
Thomas Aiken: Wd / 12 / MC / 57 / 4 / MC / 5 / MC
Gregory Bourdy: 27 / 15 / MC / - / - / 12 / - / -
George Coetzee: - / - / - / 18 / 45 / MC / - / 3
David Drysdale: - / MC / 25 / 28 / 29 / MC / 8 / MC
Darren Fichardt: 17 / 73 / 4 / MC / 42 / 25 / 37 / 13
Keith Horne: 39 / 18 / 48 / 14 / 6 / 34 / 15 / 44
James Kingston: MC / 27 / MC / 52 / 37 / 17 / 10 / MC
Jbe Kruger: - / - / - / MC / MC / MC / 10 / 9
Martin Maritz: 14 / 27 / MC / MC / - / - / MC / 29
Damien McGrane: 8 / 27 / - / - / 29 / 8 / 43 / -
Titch Moore: 39 / 12 / 11 / 18 / MC / 44 / MC / -
Grant Muller: 32 / MC / 39 / MC / MC / 44 / 15 / 20
Garth Mulroy: - / - / - / - / 21 / 12 / MC / Won
Hennie Otto: 39 / 60 / 6 / 9 / 29 / MC / 15 / 7
Robert Rock: - / - / 17 / 14 / 2 / 4 / 8 / 38
Charl Schwartzel: Won / 2 / 2 / MC / 14 / 2 / 2 / -
Richard Sterne: MC / 27 / - / 18 / Won / 4 / 30 / -
Graeme Storm: 8 / MC / - / - / - / - / - / 15
Ulrich Van Den Berg: 27 / 4 / MC / MC / MC / 12 / MC / MC
Tjaart Van Der Walt: - / 36 / - / - / - / 51 / 13 / 29
Jaco Van Zyl: MC / 8 / 17 / 57 / 45 / MC / - / 3
Martin Wiegele: - / - / - / 18 / - / - / 21 / -
SELECTED PLAYERS with POOR to MEDICORE FORM at LEOPARD CREEK
Full Tour History
(No Top-30 Finish from Three or more starts)
Player: '04 / '05 / '06 / '07 / '08 / '09 / '10 / '11
Jaco Ahlers: - / - / - / - / MC / MC / MC / MC
Magnus A Carlsson: - / - / - / 33 / 53 / - / MC / 49
Charl Coetzee: - / - / - / MC / - / 51 / MC / MC
Robert Coles: - / - / - / - / - / MC / MC / 32
Josh Cunliffe: - / - / - / MC / - / 69 / MC / 38
Louis De Jager: - / - / - / - / - / 61 / MC / MC
Branden Grace: - / - / - / MC / 53 / MC / - / MC
David Hewan: - / - / - / - / - / MC / MC / 44
Mikael Lundberg: - / - / - / 57 / - / MC / - / MC
Callum Macaulay: - / - / - / - / 37 / MC / - / MC
Richard McEvoy: - / - / MC / - / - / 51 / MC / 49
Shaun Norris: MC / - / MC / - / MC / MC / - / 38
Jake Roos: - / - / - / MC / 62 / MC / MC / MC
Neil Schietekat: - / - / - / - / MC / MC / MC / 60
Teboho Sefatsa: - / - / - / MC / MC / - / MC / -
Divan Van Den Heever: - / - / MC / MC / MC / MC / 43 / MC
Bradford Vaughan: Ret / MC / MC / MC / 49 / 39 / 43 / MC
Justin Walters: - / 60 / MC / MC / 57 / MC / - / 32
TOP-10 Finishes at LEOPARD CREEK in 2011 (Not Listed Above)
George Murray: (2nd)

Peter Whiteford: (T-3rd)
James Kamte: (T-9th)
LOWEST 12 STROKE AVERAGES at LEOPARD CREEK
(Last Four Years - 2008/11)
Average (Rounds)
68.92: Charl Schwartzel (12)
69.57: Garth Mulroy (14)
69.75: Richard Sterne (12)
69.81: Robert Rock (16)
70.20: Jaco Van Zyl (10)
70.43: Hennie Otto (14)
70.75: Thomas Aiken (12)
70.75: Keith Horne (16)
70.83: Damien McGrane (12)
70.83: Fabrizio Zanotti (12)
70.86: James Kingston (14)
70.90: George Coetzee (10)
(Min. No. of Rounds = 8)
MOST TOP-10 FINISHES
(at European Tour events staged in SOUTH AFRICA since Jan 1st, 2007 - excluding Leopard Creek)
Total
8: Charl Schwartzel
6: Branden Grace
6: Louis Oosthuizen
5: Thomas Aiken
5: James Kingston
4: Magnus A Carlsson
4: Garth Mulroy
4: Hennie Otto
4: Jaco Van Zyl
HOT at HOME
CHARL SCHWARTZEL has an excellent record on home soil. Here is a list of his last 12 European Tour appearances in South Africa:
2009: 4th (Joburg Open)
2009: 2nd (Alfred Dunhill Ch'ship)
2009: 26th (South African Open)
2010: Won (Africa Open)
2010: Won (Joburg Open)
2010: 2nd (Alfred Dunhill Ch'ship)
2010: 4th (South African Open)
2011: 4th (Africa Open)
2011: Won (Joburg Open)
2012: MC (Joburg Open)
2012: 5th (Volvo Champions)
2012: 5th (South African Open)
LOWEST ROUNDS at LEOPARD CREEK (Full European Tour history)
61: Thomas Aiken (2008)
63: Pablo Martin (2009)
64: 11 times
65: 16 times
Note: The only golfer to shoot as low as 65 in the final round was Bobby Lincoln in 2005
Leopard Creek: Par 72; 7,326 yards
Winning Totals (Last Three Years):
2011 - 269 (Garth Mulroy)
2010 - 277 (Pablo Martin)
2009 - 271 (Pablo Martin)