Colin Montgomerie could be European Ryder Cup captain again in 2014
Colin Montgomerie is flattered to be mentioned as a candidate for the 2014 European Ryder Cup captain's job.
Last Updated: 09/01/13 5:49pm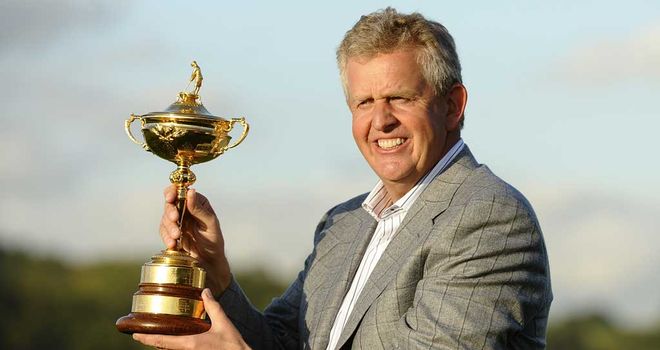 Monty, who captained Europe to glory at Celtic Manor in 2010, said: "I am excited and honoured and very flattered really that my name's been put in the frame."
From it appearing a straight duel between Paul McGinley and Darren Clarke for the job of leading Europe out at Gleneagles next year things have taken an unexpected twist.
Clarke said last month that there might be a case for bringing back a former captain as a consequence of 63-year-old golfing great Tom Watson being put in charge of the Americans.
"I've always said that we need the best man for the job, whoever that is," Montgomerie said in Durban, where he is part of the 33-strong field for the Volvo Champions tournament starting on Thursday.
"And if we're going for the best man for the job then that doesn't say you shouldn't do it again.
"I thought it was between Darren and Paul until Darren said something, then my name was mentioned.
"I've never canvassed, as I didn't last time. I've not spoken to anybody about this. But I've always felt that if I was asked I would do it and that's still the case."
Abu Dhabi meeting
Montgomerie, Clarke and McGinley are all on the tournament committee that will meet in Abu Dhabi on Tuesday.
Thomas Bjorn, himself another potential future captain and like the two Irishmen assistants to Montgomerie and then Jose Maria Olazabal, is the committee chairman and is another waiting to see how the discussion goes - although he insists he has no hidden agenda in terms of how different decisions might affect his own chances down the road.
"If you sit down in a 15-man committee and 12 think Monty should be captain then you've got to go with him," said the Dane.
"I don't have a strong view against appointing somebody twice, but there a lot of other people I think could do a very good job."
Bjorn also believes there is no need to change tack just because it is five-time Open champion Watson.
"I was asked if it was a desperate thing (by the Americans). No, I think it's pretty good idea by them, but it's different.
"Yet we seem to be able to win with the system that we have (five of the last six matches have gone Europe's way). Why should we change it and why should we change our view on who should be captain?
"I don't want us to react to Tom Watson being their captain. I want us to appoint who we think is the right man for the job."
Bjorn has sounded out many of September's side - "they are mostly the guys who are still going to be playing and we want to get them the right captain to play under - and will sit down at the start of next week with European Tour chief executive George O'Grady, Director of Tour Operations David Garland and Ryder Cup director Richard Hills ahead of the meeting.
"With every other issue I know how the Tour is thinking and I sometimes have to guide the committee in the right direction, but on this I can just say (to his fellow players) 'this is for you to decide'."
As chairman Bjorn will vote only if there is deadlock it may be that a decision is deferred, but if the captain is picked on Tuesday Bjorn says the announcement will be made straightaway.
Four years ago Montgomerie's name was suddenly put forward by fellow committee member Henrik Stenson and almost before he knew it he had been voted in.
Making that public was delayed, but the word got out and bookmakers reacted accordingly.
"We were asked to keep quiet, but the rumour mill spread and I became 1/50 from 50/1," Montgomerie recalls.
"Nothing to do with me - I don't know how to place a bet."
The Tour was not happy and want no repeat.
Bjorn is also keen to avoid any bitterness.
"Paul and Darren have been two of my best friends on Tour all the years I've been out here.
"It's not easy and I've told both of them they've just got to go with what happens. It's for other people to decide. If you miss out it's because it's not the right time - if you get appointed it's because it is the right time.
"We've always had the view that it's an honour to be appointed, but it's nobody's right. If you take that view you can't be upset about it and that's the attitude you should go in with. No expectations."