Rory McIlroy wants Paul McGinley to become Europe's new Ryder Cup captain for 2014
Rory McIlroy wants Colin Montgomerie to leave the way clear for Paul McGinley to become Europe's new Ryder Cup captain.
Last Updated: 14/01/13 8:34am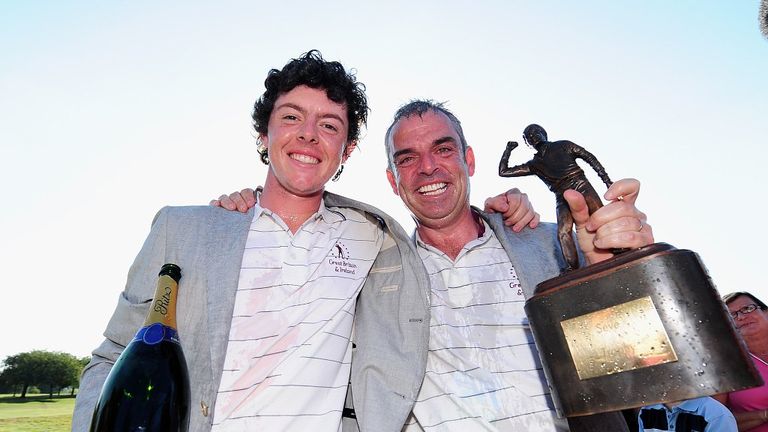 The world number one, who returns to action in Abu Dhabi this week, made his thoughts known again 48 hours before Europe should name their man for Gleneagles next year.
"Ryder Cup captaincy should be a 1-time thing," Northern Irishman McIlroy wrote on Twitter. "Everybody deserving gets their chance and moves on. Would love to play under Paul McGinley in '14."
With Darren Clarke expected to confirm to the European Tour's tournament committee that he does not think the time is right for him, it appears to come down to McGinley or Montgomerie for next year's match at Gleneagles.
Last year's successful European captain Jose Maria Olazabal had already insisted he would not accept the role even if the contest returned to Spain.
Olazabal, who oversaw the memorable final-day comeback at Medinah, said: "I would never do it again. First of all it's a lot of energy and time, a huge demand and the pressure is quite big.
"It's a different pressure, not one we are used to out there playing on the course. The media scrutinise everything you say and every possibility.
"On top of that, I've done it and it couldn't have been any better. Even if it was held in Spain again somewhere down the line I wouldn't do it.
"Monty has also done it and was successful too. If I was him I wouldn't do it again, but Monty is his own man. It's being played in Scotland close to his home. It's his decision.
"I am a strong believer that we have a generation of players that deserve the captaincy - and some might miss out because there are just too many. I think it's right to give those guys a chance."