World number one Rory McIlroy joins Tiger Woods at Nike
Rory McIlroy has been unveiled as Nike's new brand ambassador at a special media conference in Abu Dhabi.
Last Updated: 15/01/13 2:33pm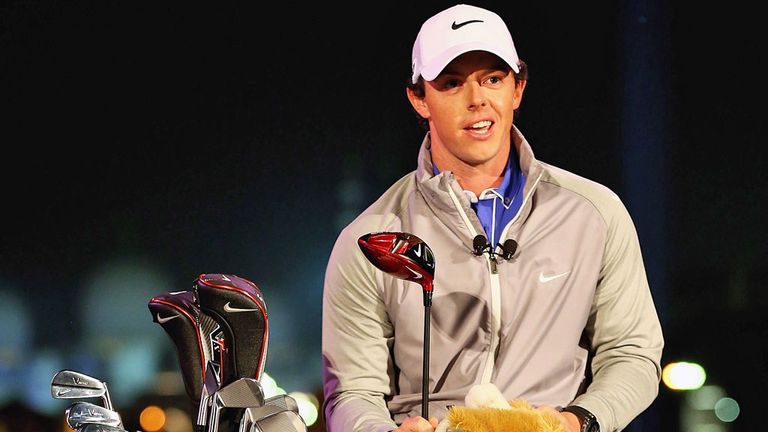 The switch to Nike, where he will join Tiger Woods, will put the world number one amongst the highest paid sports stars in the world.
Although the exact length of the deal was not revealed, it has been widely reported to be a 10-year contract worth as much as £150million if McIlroy, previously with Titleist, goes on winning majors.
McIlroy will use Nike's full range of clubs, balls, clothing and accessories, with the clubs used competitively for the first time in the Abu Dhabi HSBC Championship later this week.
"I chose Nike for a number of reasons," McIlroy said. "It's a company and a brand that really resonates with me. It's young. It's athletic. It's innovative. They are committed to being the best, as am I. Signing with Nike is another step towards living out my dream."
"I don't play golf for the money, I am well past that," McIlroy added.
"I'm a major champion and world number one, which I have always dreamed of being, and feel this is a company that can help me sustain that and win even more major titles.
"At the end of 2013, if I have not won another major I will be disappointed."
Cindy Davis, president of Nike Golf, added: "Rory is an extraordinary athlete who creates enormous excitement with his on-course performance while, at the same time, connecting with fans everywhere.
"He is the epitome of a Nike athlete and he is joining our team during the most exciting time in Nike Golf's history. We are looking forward to partnering with him to take his remarkable career to the next level."
Celebrity status
With Danish tennis star Caroline Wozniacki his partner for the past 18 months, McIlroy's celebrity status has grown even more.
Having changed girlfriends, McIlroy then changed managers 14 months ago, leaving the same stable as Lee Westwood and Darren Clarke to join Dublin-based Horizon Sports.
His close friend Graeme McDowell had been the leading client on their books, but now, of course, McIlroy is in a league of his own.
In demand the world over, he has had to learn the art of saying "No" at times, but was unlikely to do that when Nike made their approach.
Although Nick Faldo has questioned the decision to switch from Titleist, McIlroy said in November: "I think all the manufacturers make great equipment nowadays and it's all very similar.
"A lot of them get their clubs made at the same factories. I don't think it will make any difference.
"I've started the process of trying a few new things. I've tinkered about a little bit with the new ones, enough to feel comfortable going into next season."
That season is now here and for McIlroy it starts in the desert on Thursday.