Defending champion Robert Rock is hoping for a repeat performance in Abu Dhabi this week
Robert Rock admits it feels like a long time since he beat off Tiger Woods and Rory McIlroy to win in Abu Dhabi.
Last Updated: 16/01/13 2:39pm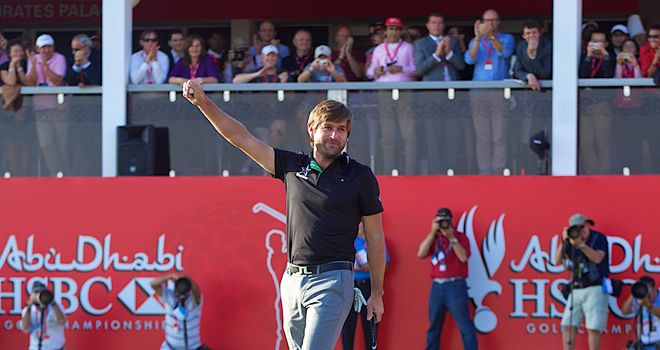 The Midlander leaped from 117th to 55th in the world rankings with a dramatic victory this time last year, but failed to build on that and once again finds himself outside the top 100.
However, he still has high hopes a return to the Middle East can revive his flagging fortunes once again.
"Yes, I've slipped a bit, but I was in a similar position a year ago and one week can change an awful lot," the 35-year-old said.
"The win last year almost got me in The Masters - and I now know my good stuff is really quite good.
"What I did has been a constant boost ever since. I've no need to be frightened of anything I face in golf again."
What he did was go head-to-head with Woods in the final round and not only beat him by two, but also finish one ahead of runner-up McIlroy.
"It feels like more than a year ago and it's a little bit of a shame it's coming to an end really because somebody is going to win the trophy and it might not be me," he said.
"Memories fade a bit, don't they? Being the current champion feels quite nice."
Rock is spurred on by the fortune's of Jamie Donaldson, who booked his place at the Masters by finishing 2012 in the world's top-50.
"He sent me a copy of his Masters invite, which has wound me up quite nicely," he added.
"I think the text went something like 'Did you get one of these?', but I've still got time and that's the motivator."