Howard Clark reflects on Chris Wood's maiden European Tour victory in Qatar
Howard Clark says Chris Wood must 'push on' after claiming his first European Tour title, in Qatar.
Last Updated: 28/01/13 8:28pm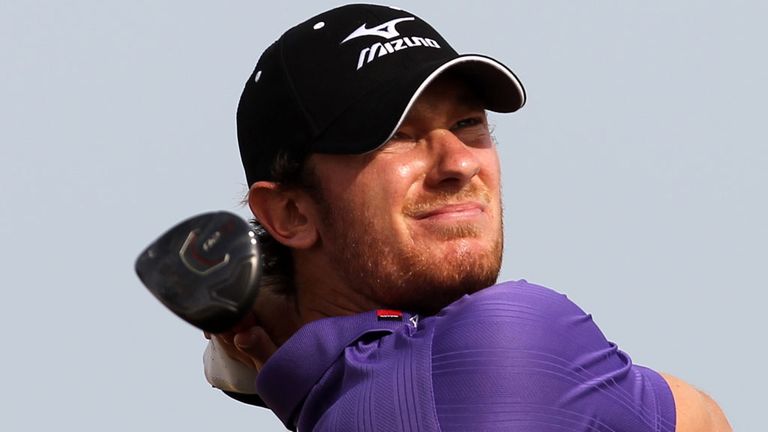 Wood, 25, eagled the last at Doha Golf Club to finish on 17-under-par and beat Spain's Sergio Garcia and South African George Coetzee by a single shot in dramatic fashion.
The Englishman had gone 115 previous European events without a victory but finally broke his duck, five months after winning the 2012 Thailand Open on the OneAsia Tour.
Clark told Sky Sports that Woods cannot afford to rest on his laurels if he wants this to be the first of many titles. "He needs to push on from here," he said.
"We've seen players win these early desert events and then kind of fritter their seasons away. Robert Rock is one that springs to mind - he hasn't had a top 10 in a four-round tournament since [winning the 2012 Abu Dhabi HSBC Golf Championship].
"But I think he's got the belief to do that and he's got plenty of encouragement from his team to get that little push forward and dedicate himself totally to this game.
"That win in Thailand at the end of last year didn't count for the Order of Merit, the Race for Dubai or any of the world tours that he was interested in but it counted for his mental buoyance."
Turning point
Wood began the day three shot clear of the field but double-bogeyed the par-three third and dropped another shot at the sixth before reaching the turn in level par.
Four straight pars followed before a birdie at the par-four 14th put Wood back in contention - and Clark said that three was crucial to the final outcome.
"He certainly put us all on edge - we were thinking that he's blown his chance, at the third hole, and then he dropped another shot," said Clark.
"But he played some seriously good golf at the end. The up-and-down at the 15th after a poor shot to the 15th green was probably the turning point in terms of belief. He could do it then - that was a tremendous save for par.
"His caddy, Brenden [McCartan], helped him through the tough times on the front nine. They were hard times as well. He could certainly have lost all his equilibrium, his sense and his temper at that third hole. In fact, he did well to make a five!"
Wood stood on the final tee a shot behind Garcia and Coetzee but a huge drive and precision approach from 202 yards out, left him a 12-foot putt for eagle - a putt he duly made.
"It was incredible," said Clark. "Wayne Riley called a five iron - for 202 yards - and it's probably the purest swing of the day. It was straight at the target and we all felt that he was going to hole the putt.
"Brenden would have said 'you've got the chance here, take it' - and he did. I like the way he celebrated. He wanted to jump up and down but he knew that Simon Khan still had a putt to play.
"Brenden has played a big part in Jose Maria Olazabal's career and those of others but this will probably be his sweetest victory."