Dawie van der Walt wins Tshwane Open title with 'brilliant display'
Dawie van der Walt proved his mettle by claiming victory at the Tshwane Open, says John Hawksworth.
Last Updated: 03/03/13 4:52pm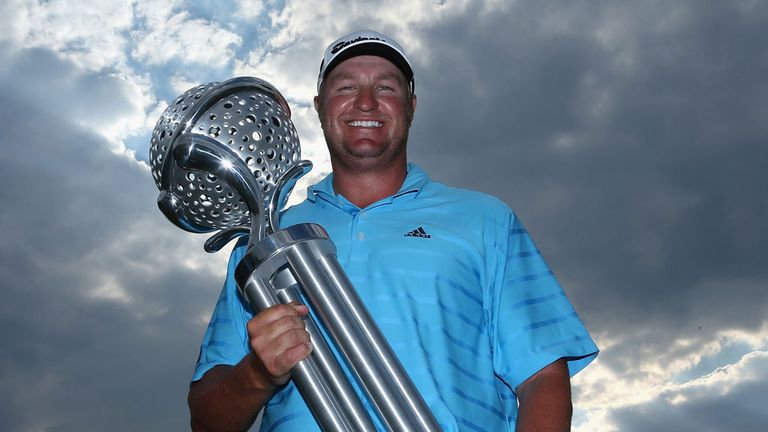 Van der Walt, 30, shot a final round 67 to finish on a winning 21-under-par total of 267 at Copperleaf Golf & Country Estate, Centurion, and bag the biggest victory of his career.
He began the day in a four-way tie with Darren Fichardt, Mark Tullo and Charl Coetzee but made his move with an eagle at the par-five fourth and didn't look back.
Fellow South African Fichardt carded a fourth-round 69 to finish second on 19-under, one shot ahead of compatriot Louis De Jager.
Reflecting on Van der Walt's success Hawksworth, a European Tour player from 1988-2001, told Sky Sports: "It was a brilliant performance on the back nine. Considering he hasn't won anything and has kind of come from obscurity, I thought he handled himself very well.
"Darren Fichardt, the winner of the last event, was playing very well and Van Der Walt knew that if he made a slip up that Fichardt would be the guy to do the damage on him.
"But he hit two great shots into the par-five 15th, then he hit a good tee-shot at 16. All in all it was a good performance. You'd expect to see some nerves and a little bit of edginess.
"You'd expect him to be thinking 'gosh, I could win my first European Tour event and be exempt until the end of 2015' - which he is now.
"So it's a real big deal for a guy like that to come from obscurity; welcome to the riches of the European Tour! You have to take your hat off to him and congratulate him on a brilliant performance.
"It will do his confidence the world of good to prove to himself that when it came down to the sticky part of the tournament, he didn't show any weaknesses really.
"Fichardt could have pushed him a little bit more, perhaps, but nevertheless Van Der Walt didn't have to produce any more. He did enough and I thought it was a brilliant performance."