Ernie Els regrets not having done more to try and prevent Rory McIlroy's walk-off
Ernie Els regrets not having done more to try and prevent Rory McIlroy's walk-off at last week's Honda Championship.
Last Updated: 07/03/13 4:07pm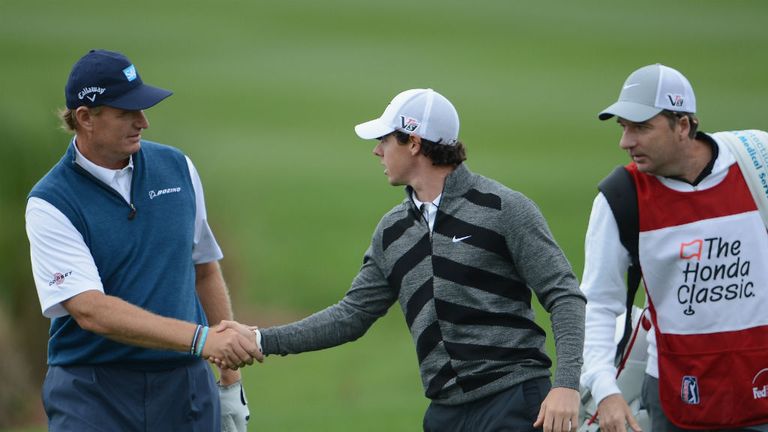 McIlroy, the defending champion, withdrew from the tournament in Palm Beach midway through his second round, initially saying he was "in a bad place mentally", before later citing a painful wisdom tooth.
The USPGA champion was playing with Mark Wilson and Els at the time and the South African has acknowledged he now wishes he had said something to McIlroy when the 23-year-old opted to quit on the 18th hole at PGA National.
"No, we didn't quite talk to him. But I must say, when I shook his hand on 18, I wanted to say something to him, but I didn't, and I kind of regret that," Els told reporters ahead of this week's WGC-Cadillac Championship.
"It was definitely obviously a heat of the moment thing. He is who he is. You've got to respect what the individual at that moment is like, and he wanted to get off. And we obviously heard that he had his wisdom tooth was bothering him, and if that was the reason, that was that.
"I would have been out of my depth at that stage to say something to him if something was bothering him. So I didn't, but I thought I should have."
Moving on
Els had been openly critical of McIlroy's decision to quit, before later learning of his toothache problems, but has now insisted the youngster should not be judged too harshly.
The reigning Open champion revealed he had seen McIlroy working hard on his game over the weekend and believes the furore will soon be forgotten once the World No 1 rediscovers some form.
"I saw him at The Bear's Club (Jack Nicklaus' private golf club in Florida) over the weekend. He was practicing his tail off," Els added. "He was there right through the whole day, even yesterday we played at Seminole, he was out there in the afternoon.
"So he's obviously working hard at his game. We did talk a little bit in private. We'll see what he says, you know. I played with him Thursday, Friday, so we'll see what he says tomorrow.
"Listen, I was also 22, 23; I'm 43 now. I look back, I did a lot of silly things and what he's done is nothing compared to what I did; speak to my parents.
"But when it comes to being where he's at, you've got to maybe think a little bit more than two minutes. You know, in a couple of years' time, he won't even think about this or talk about this. If he wins this week, it will be the last thing we talk about, it will be history and that's what it should be. It's something that's happened and we should move on from that.
"He's a great kid, he's a great player and if he admits he's made a mistake, then that's that and let's move on."