Morocco stat pack
Read our key stats and form guide ahead of this week's European Tour event, the Trophee Hassan II.
Last Updated: 27/03/13 6:06pm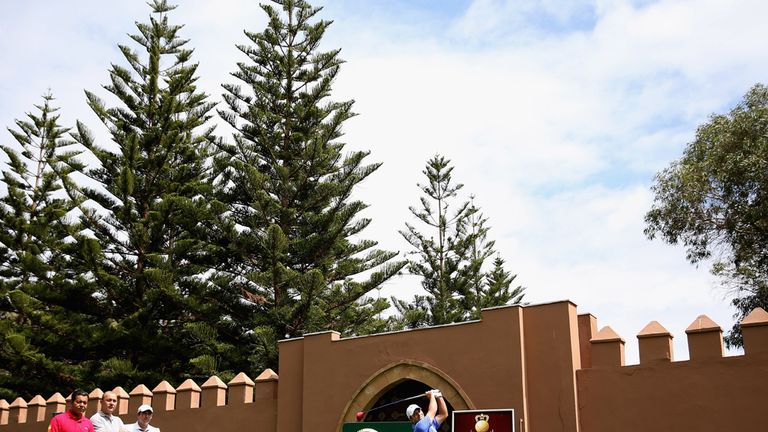 The European Tour travels in a westerly direction to northern Africa for the fourth staging of the Tropee Hassan II event in Morocco.
For the third year in a row, the tournament is being held at Golf du Palais Royal, a Robert Trent Jones senior creation close to the Atlantic Ocean.
The 26-year-old layout has smallish greens and deep sand bunkers and, due to its coastal location, can become extremely testing when the wind blows.
Du Palais Royal was first part of the European Tour during the 1990s when it hosted the Moroccan Open for six straight years.
And, after a gap of 12 seasons, it returned to the schedule in 2011 when it shared hosting duties with Golf De L'Ocean.
Two years ago the pros played 18 holes at De L'Ocean which was dropped for the 2012 event and remains off the agenda again this year.
SELECTED PLAYERS with GOOD to REASONABLE FORM at AGADIR
(Top-25 Finishes in both 2011 & 2012)
Player: '11 / '12
Michael Hoey: 19 / Won
Dave Horsey: Won / 14
Mikko Ilonen: 7 / 17
Richie Ramsay: 7 / 17
Graeme Storm: 19 / 25
SELECTED PLAYERS with POOR to MEDICORE FORM at AGADIR
(No Top-40 Finishes from two starts)
Player: '11 / '12
Fredrik Andersson: 44 / MC
Gary Boyd: 60 / MC
Alejandro Canizares: 51 / 58
Christian Cevaer: 53 / 52
Younes El Hassani: MC / MC
Niclas Fasth: MC / MC
Mark Foster: MC / MC
Tano Goya: MC / 62
Peter Hedblom: 44 / MC
Scott Jamieson: MC / 52
Michael Jonzon: 58 / MC
Simon Khan: MC / MC
Thomas Levet: MC / MC
James Morrison: 70 / 44
Faycal Serghini: MC / MC
Marcel Siem: MC / 52
Lee Slattery: MC / MC
Romain Wattel: 44 / MC
Steve Webster: 53 / 58
Bernd Wiesberger: 53 / MC
Oliver Wilson: 53 / MC
A TOP-10 Finisher at GOLF DU PALAIS ROYAL in 2011 or 2012 (Not Already Listed)
2011
Rhys Davies: (T-2nd)
Oscar Floren: (T-5th)
Jean-Baptiste Gonnet: (T-5th)
2012
Damien McGrane: (2nd)
Robert Coles: (T-3rd)
Phillip Price: (T-3rd)
Keith Horne: (T-6th)
Ignacio Garrido: (T-9th)
Jose Manuel Lara: (T-9th)
Pablo Larrazabal: (T-9th)
LOWEST 10 STROKE AVERAGES at AGADIR
(For 2011/12)
Average (Rounds)
69.13: Michael Hoey (8)
69.13: Dave Horsey (8)
69.75: Mikko Ilonen (8)
69.75: Richie Ramsay (8)
69.88: Robert Coles (8)
70.00: Keith Horne (8)
70.13: Ignacio Garrido (8)
70.25: Pablo Larrazabal (8)
70.38: Rhys Davies (8)
70.38: Damien McGrane (8)
70.38: Graeme Storm (8)
Min. No. of Rounds = 6
Note: In 2011, one round was staged at Golf De L'Ocean and three at Golf Du Palais Royal
MOST TOP-25 Finishes on EUROPEAN TOUR this season
6: Rafael Cabrera-Bello
6: David Howell
6: Garth Mulroy
5: Lorenzo Gagli
5: Scott Jamieson
5: Andy Sullivan
4: Bjorn Akesson
4: Tommy Fleetwood
4: Peter Lawrie
4: Justin Walters
4: Steve Webster
LOWEST ROUNDS at GOLF DU PALAIS ROYAL
61: Jamie Donaldson (2012)
62: Thomas Bjorn (2011)
64: Twice
Golf Du Palais Royal: Par 72; 6,844 yards
Winning Totals
2012: 271 (Michael Hoey)
2011: 274 (Dave Horsey)