Ryder Cup: Europe captain Paul McGinley undecided on Gleneagles course set-up
Europe's Ryder Cup captain Paul McGinley is already gearing up for the 2014 contest at Gleneagles.
Last Updated: 14/05/13 4:26pm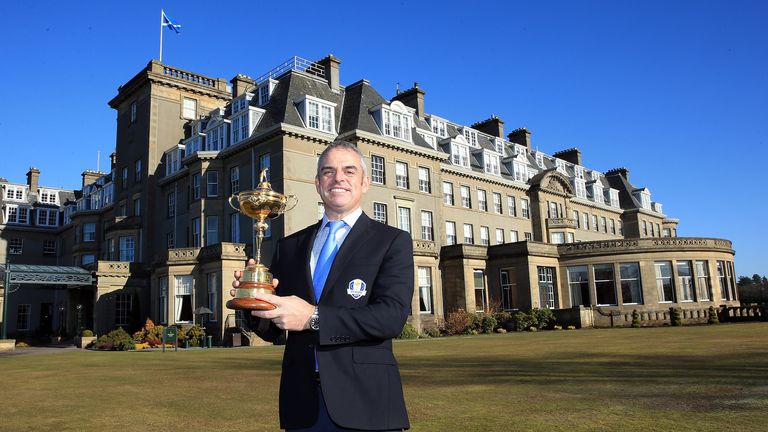 The Irishman has been chosen to succeed Jose Maria Olazabal and is going up against boyhood hero Tom Watson, who will be 65 when he takes charge of the United States.
The qualification process for the European team starts in September and McGinley is against making any changes to the course in Scotland until he has a greater understanding of the make-up of both teams.
McGinley is also wary of making the course too difficult next year, factoring in the unpredictable weather and the impact it could have on the enjoyment and ability of the players.
Experience
"I'm picturing the first tee. I'm picturing the crowd. I'm picturing the stands. The stadium people have already told me that this will be bigger than Celtic Manor - and Celtic Manor is the biggest first tee experience I've ever experienced in my Ryder Cups," he told Sky Sports.
"I've the prerogative of how I want to set a golf course up. I think there's not much I can do until I see how the teams are formulating and see what the European team is going to be like, see what the American team is going to be like. Is there a massive advantage one way or another? And I can tailor the golf course accordingly?
"The big question mark over here is, end of September in Scotland what kind of weather are we going to have? I don't want the players to look foolish and I don't want to kill the Ryder Cup by making it too difficult if the weather turns against us.
"We have experience of playing this golf course and we'll just have to see how it works out and how it all evolves. At the moment I have no definitive ideas.
"I owe the Ryder Cup a lot. Any time the words are mentioned it excites me. To be in a position to be captaining what would be a very strong European team excites me as well. It's a great time in my life."