BMW PGA Championship: Rory McIlroy's day ruined by late bogey run
Rory McIlroy's hopes of a fast start in the BMW PGA Championship were wrecked by five bogeys in his final six holes.
Last Updated: 24/05/13 2:52pm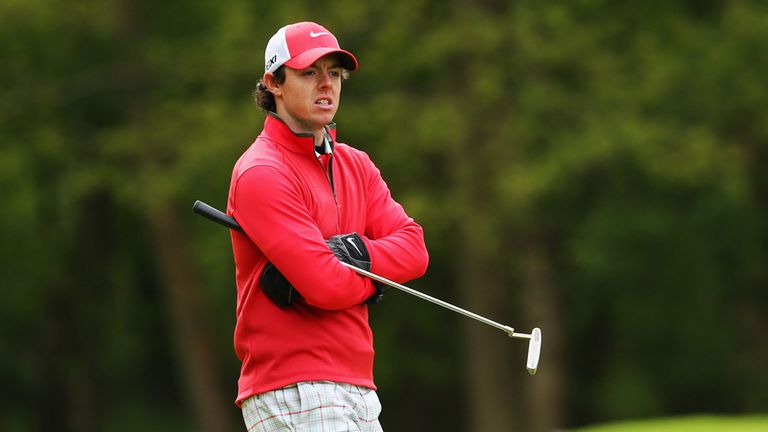 The 24-year-old Northern Irishman looked set to be making a challenge for the lead at the European Tour's flagship event when he played his first 12 holes in three-under par.
But in unseasonally cold weather at Wentworth the world number two made a series of late blunders to finish with a two-over 74 - eight behind clubhouse leader James Kingston of South Africa.
"It was one of those rounds I let slip through my fingers," McIlroy told reporters after finishing with bogey sixes at the 17th and 18th.
"It could have been something good and I could have been near the top of the leaderboard but instead I am where I am."
On a tough day for scoring on the tough 7,302-year West Course, McIlroy admitted his struggled in the cold temperatures and gusting winds.
"The thing that gets me is the cold and I was wearing mittens all day.
"Your body just doesn't feel the way it usually does and we are so used to playing in warm conditions these days. This is a little bit of a change," said McIlroy who is now based in American and plays the majority of his events on the PGA Tour.
"I hit a couple of loose tee shots on 13 and 17, three-putted 14 and then got a bit unlucky on 18 when my tee shot went through the fairway a little too far and into the bushes."
"I didn't really miss a shot for the first 12 holes and I feel that just now I'm not getting as much out of my rounds as I should do," he said.
"Maybe it's just a matter of not letting the bad shots affect me as much. I don't know what I can put it down to."
More woe for G-Mac
McIlroy's playing partner and close friend Graeme McDowell also had to settle for a two-over 74 after racking up a double bogey at the last.
"I don't play this course well," said the Northern Irishman who won last week's World Match Play Championship in Bulgaria. "It needs to be sort of fiery for me to have a chance.
"I find it kind of long and a bit of a slog really. It's a tough course and I knew anything around par today would have been a good effort."
"My ball-striking wasn't bad and I putted all right but let's be honest the greens are slow," he explained. "It's been tough to get them up to speed.
"It's a standard Wentworth performance for me unfortunately. It's not really my happiest hunting ground.
"I only made one birdie today and that's not really good enough. I feel a bit beaten up right now."