Irish Open: Rory McIlroy's all-or-nothing approach to golf gets thumbs up from Paul McGinley and Padraig Harrington
Paul McGinley says the upside of Rory McIlroy's aggressive approach to golf is worth the occasional missed cut.
Last Updated: 28/06/13 4:45pm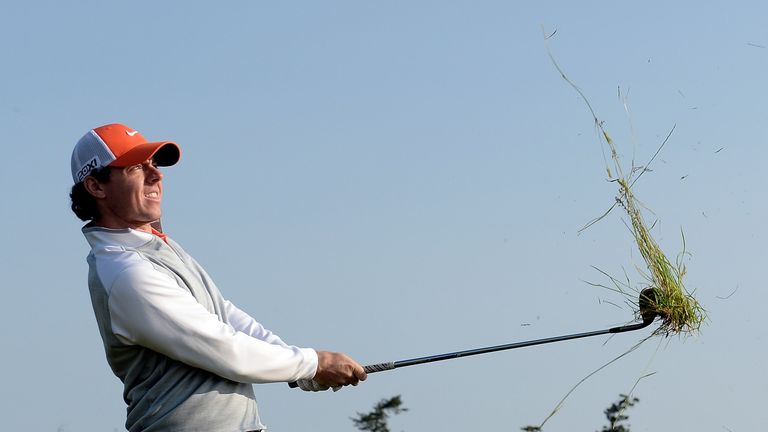 World No 2 McIlroy has not won since the Dubai World Championship last November and has missed two cuts on the European Tour this year, at the Abu Dhabi Golf Championship and BMW PGA Championship.
But McGinley is not worried as he believes McIlroy's aggressive approach to the game means week-to-week consistency will sometimes be sacrificed.
"There's going to be ups, there's going to be downs. That's just his DNA, that's how he is. That is what he is going to be," McGinley told Sky Sports News.
"(Six-time major winner) Nick Faldo was very much a flatliner. If he wasn't winning he was in the top five and, if he wasn't in the top five, he was in the top 10. He never missed cuts, he never seemed to miss a beat. Whereas Rory is different, Rory is going to be up and down, that's what makes him so exciting."
Padraig Harrington, among a strong Irish contingent teeing it up at Carton House, echoed McGinley's views.
Harrington said: "When he plays well it's genius and that is what he wants. He wants to be erratic in his game to be honest.
"Consistency is over-rated especially when you have achieved at the top end of the game."
Pragmatic
Harrington is mired in a slump of his own; the former Open and US PGA champion's most recent European Tour win came almost five years ago and he is now down at 67 in the world rankings.
The 41-year-old Dubliner supports the ban on anchored putting - which is due to come into force from 2016 - but is willing to use the technique in the interim if it helps his game.
Harrington explained: "I will use whatever is in the rules. I fully believe it should be banned. I think it is a controversial aide to the game that was never meant to be that way, but in professional golf you use what you can within the rules.
"If I hit it into the middle of the trees and I am on a cart path and get a free drop, well I am taking a free drop."