The Open: Ian Poulter leads calls for "sensible" weekend pin positions
Ian Poulter led calls for Open organisers to be "sensible" with their set-up of Muirfield layout at the weekend.
Last Updated: 19/07/13 10:41pm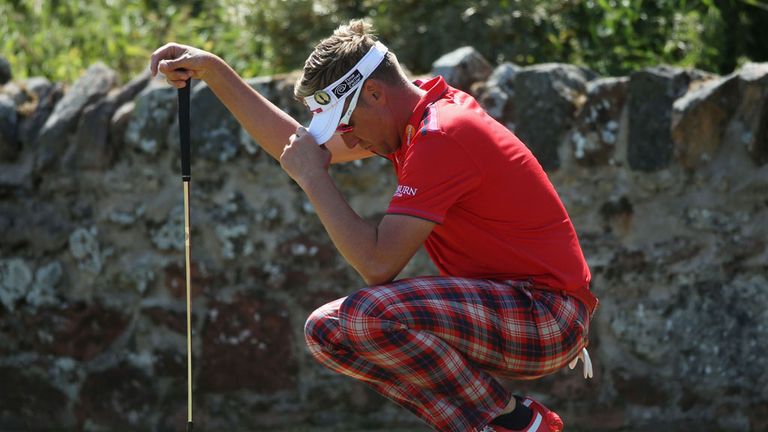 Poulter was the only player in the field to avoid dropping a shot on the back-nine in brutal conditions in the second round, and the Englishman's level-par 71 was one of the top 20 scores of the day.
Several elite players came to grief on the greens on the back-nine, with Phil Mickelson four-putting the 16th and Brandt Snedeker - regarded as one of the best putters in the world, also taking four putts at the 15th.
Nicolas Colsaerts ran up a horrific nine at the 15th after taking no fewer than six putts from the fringe, and the likes of Poulter, defending champion Ernie Els and Mickelson have called for cautious pin placements for the weekend.
"It is hard to get it close to any of those pins," said Poulter, who described some of the pin positions in the opening round as "a joke".
"When the ball is running as fast as it's running and as firm as the fairways are short of the greens it's really difficult to predict how far the ball is going to roll.
"We can all play this golf course when the pin locations are in places where you're not going to get called out for hitting a good putt for 20 feet. Today I think there was only one, probably 15, that was very dicey.
Brutally difficult
"I managed to two-putt it, so I'm over the moon but Billy Horschel hit a putt from 15 feet and it rolled 15ft past. It's brutally difficult to get it anywhere near a range where you feel comfortable having a go at a putt from 15, 20, 40ft.
"The R&A can't soften the golf course up too much but we just need some sensible pins and it will be playable."
Mickelson claimed some of the greens were "faster than Augusta," and added: "Augusta is 14.5 on the stimp and these were well into the 15 in spots and the 16th was one of them."
Els singled out 14 and 15 which, in his opinion, needed slowing up.
"Water - and you don't have to cut them," he said. "Fourteen and 15 are really getting out of hand. It's not very playable."
And Snedeker, who dropped seven shots over the last six holes to return a 79 that left him on five over, said: "You can probably look at it at the end of the day and see how many guys hit the green. I'm sure it's very few.
"We've got sand wedges into the green but I don't know how you're supposed to stop it. I don't know if that's fair or not. They need to put some water on it.
"Everything is dead. You've got fairways that are running 15 in some spots. You can't stand up, you can slip."