The Open: Johnson Wagner furious on behalf of playing partner Hideki Matsuyama
Johnson Wagner was fiercely critical of the one-stroke slow-play punishment handed to playing partner Hideki Matsuyama.
Last Updated: 20/07/13 8:11pm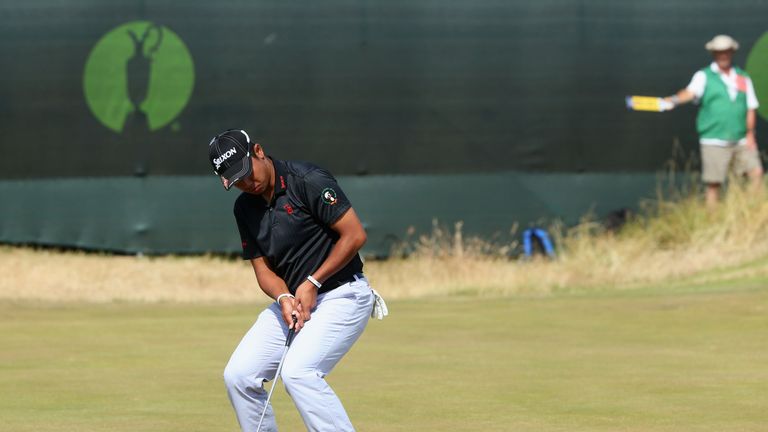 The Japanese player was one-over, within a couple of the lead, playing the 17th when he was penalised after receiving a second warning for taking too long.
It resulted in a bogey six and another dropped shot at the last put him six behind leader Lee Westwood.
American Wagner was incensed at the way the incident was handled, especially after Matsuyama's drive at the penultimate hole had struck a spectator.
He said he would have gone "ballistic" had he been punished in the same way and had pleaded with officials to reverse the decision.
"I don't like slow play either but given his position in the tournament, and given the shot he faced on 17, I don't think he took too long," he said.
"I think it's tragic and I think the R&A should use better judgment in the penalising of it.
"We met up on the green and I just looked at him and gave him a 'this is ridiculous, I'm sorry' look. We don't really speak the same language but we know what we're talking about.
"I pleaded in the scoring area for five minutes. It infuriated me that he got a penalty.
"If they had tried to penalise me I would have gone ballistic so I tried to represent Hideki as good as I could and couldn't get it changed."
Matsuyama's group was put on the clock on the 15th as they were 15 minutes over the scheduled time and were out of position on the group ahead and the player's first putt was recorded at one minute 12 seconds.
When the time for his approach to the 17th was clocked at two minutes 12 seconds, more than twice the allocated time, he was penalised.
"I feel very sorry that it happened," Matsuyama said. "After the tee shot I hit some spectators. I signed my glove and gave it to him or her.
"It took me a little while to figure out what to do with the second shot and that is when it (the penalty) happened.
Really angry
"What happened has happened but Mr Wagner was really angry for me and I really appreciated that.
"One stroke is a really big deal at this stage, but I will do my best tomorrow to do the best I can."
David Rickman, the R&A's director of rules and equipment standards, said Matsuyama had been given ample time to deal with the situation and felt he had been treated fairly.
"Both players made their point quite clearly in the recorder's hut when I went and joined them at the end of their round," he said.
"The timing was conducted by a very experienced European Tour official (tournament director David Probyn).
"He explained he gave Hideki time to deal with the spectator. He (Matsuyama) then walked forward to look at the stroke he had, then walked back to his ball, and the official allowed all of that to happen before the watch was started.
"We feel that we were appropriately liberal with the starting of the timing procedure and then the stroke itself.
Appropriate
"In the circumstances I confirmed to both players that I could see no reason to waive that bad time and, therefore, a penalty stroke was appropriate."
Former US Open champion Graeme McDowell had earlier criticised officials after he and Gregory Bourdy were warned.
"This is an extremely difficult golf course, with some tough pins, and being put on the clock on the fifth hole is a bit out of order really," said the Northern Irishman.
"There's a difference between slow play and bad play. I thought they were getting a little hardcore with the watch out there this morning.
"I get it, they're trying to keep play moving, but have a little common sense boys."