Bernhard Langer and Mark Wiebe fail to complete Birkdale play-off
Bernhard Langer and Mark Wiebe will return to Royal Birkdale on Monday to complete their play-off at the Senior Open.
Last Updated: 29/07/13 9:14am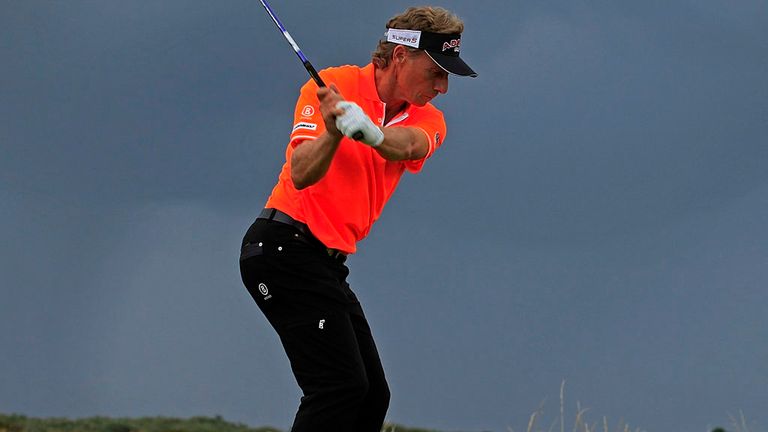 Thanks to two stoppages for bad weather, along with a calamitous final hole of regulation play by Langer, the last round of the senior Major was unable to reach a conclusion.
However, a play-off between the German and the little-known American looked unlikely when Langer stood on the 72nd tee needing a bogey five for victory.
But after finding a greenside bunker with his second shot, the 55-year-old left his first attempt in the sand before hitting a decent second sand stroke to within seven feet of the pin.
Yet, from there, he nervously stabbed the ball wide for a double-bogey, leaving him and Wiebe to contest a play-off.
Near darkness
And, in near darkness, the first play-off hole was completed in a pair of par fours before the duo astonishingly decided to play the 18th hole again and once more carded a brace of pars.
Langer had posted a closing 70 - that included 13 pars - while Wiebe made a four-under 66.
The latter, who was playing one group ahead of Langer, missed a six-footer for birdie on the final hole of regulation and will return to the Southport on Monday in the hope of clinching his first senior Major.
Langer, meanwhile, is hoping to secure the title for a second time, having previously won it three years ago.
Due to two breaks in play because of the threat of electrical storms, Langer and Wiebe finally stopped for the day at 9.35pm - having teed-off around seven hours earlier.
Langer admitted: "It was a roller coaster day. I had quite a nice lead and all I had to do was bogey the last hole.
"I gave it away. I probably chose the wrong club for my second shot. I should have maybe played it short to take the bunkers out of play.
"I still had a chance to make the putt but didn't. But I made two good pars in the play-off in the dark and I have still have another chance on Monday."
Wiebe added: "I had great chances for birdies on 15, 16, 17 and 18, and I didn't come away with any.
"But playing in the dark is a new one for me. I was hoping that one of us would bogey or something so we could move on.
"I think it's probably pretty fair that we both made pars in the play-off because it was dark and we want to have a true champion."