Women's British Open: Jodi Ewart Shadoff eyes St Andrews success
After two major top 10s, England's Jodi Ewart-Shadoff hopes to challenge for the Ricoh Women's British Open title.
Last Updated: 02/08/13 8:52am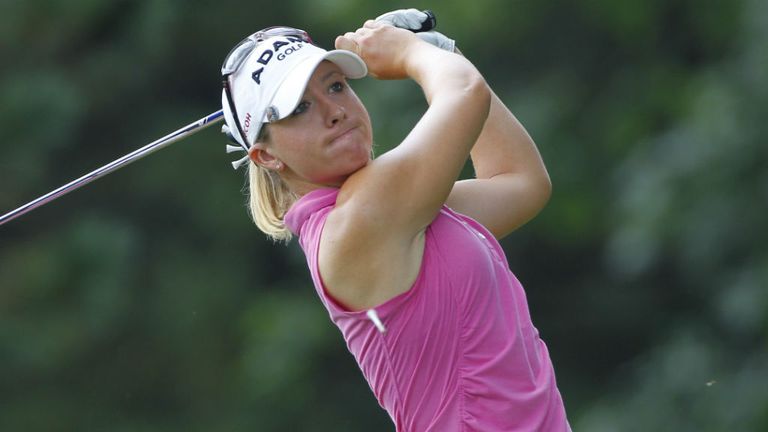 The 25-year-old was tied for seventh at the Kraft Nabisco Championship and then finished in a tie for fourth at the women's US Open to signify her love of the very biggest events on tour.
With two top 10s in majors already this year, Ewart-Shadoff believe her game is ideally suited to major golf, and hopes that will show again in Scotland this week at the Women's British Open.
I've already had three top 10s as opposed to two I think last year - and I've had my best finish at the US Open so it's given me a lot of confidence going into this week," she told Sky Sports.
"The majors set up typically a lot tougher than most tournaments and a lot longer and I'm one of the longest hitters on Tour and I hit a lot of greens so they really suit my game."
Playing links golf will be a huge change from the usual course set-ups on the LPGA Tour in America, but having grown up in North Yorkshire Ewart-Shadoff has had plenty of experience of golf, and weather in this country.
"Links golf is totally different to American golf, you've got to be able to play in the wind and you've got to be creative around the greens. Instead of just playing the lob shot all the time you've got to keep it low quite a lot around the greens and try and stay out of the bunkers as much as you can.
"I've been playing links golf since I was very young, although I don't get a chance to play it that often now I'm sure it will all come flooding back to me once I get up there."
After player struggled with dried out courses at Muirfield and Birkdale in the Open and Senior Open, the expected rain in St Andrews this week will be a welcome boost to the field if it softens up the greens somewhat.
"I watched the Open and the Senior Open and both courses looked totally burnt out - it can be difficult if you're trying to land the ball 20 yards short of the green and hope it holds on, so hopefully the rain will soften the greens up a bit."