Evian Championship: Inbee Park back at Evian to resume her major quest
Inbee Park will continue her bid to become the first player to win four majors in the same year at Evian this week.
Last Updated: 12/09/13 12:03pm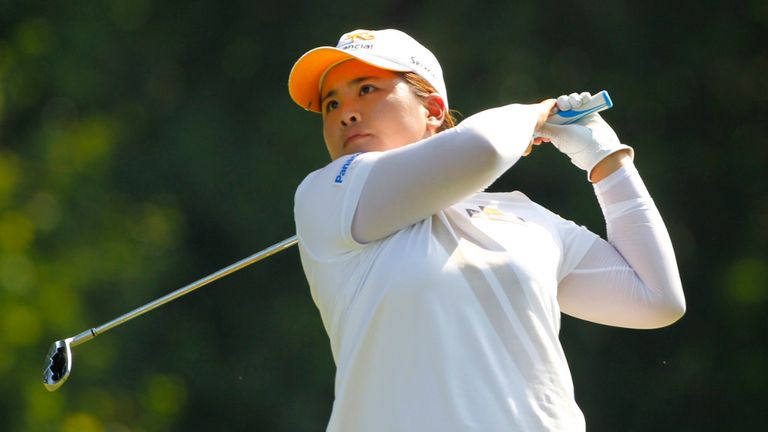 For the past 13 years, the Evian Masters was a regular event on the Ladies European Tour played on a picturesque course built into the mountains in Evian-les-Bains, overlooking the shores of Lake Geneva.
But this year the tournament has been elevated to major status, renamed the Evian Championship and will get under way on an Evian Resort course which has undergone a costly redesign over the last 14 months.
South Korea's Park actually won the Evian Masters last year and therefore comes into the event as a "defending champion" of sorts as she looks to add the title to her wins in the Kraft Nabisco, LPGA Championship and US Open.
The 25-year-old from Seoul could only finish 42nd in the Ricoh Women's British Open at St Andrews in August but is now focused on returning to the winners' circle for a seventh time overall in 2013.
"Four out of five majors is very amazing, an amazing thing to achieve," Park told a pre-tournament press conference. "I would really love to win this week, not because I'm playing for four majors but because the tournament is really special for me. I just really want to do my best.
"I'm sure the experience I had in the British Open, all the pressure I had and the things I experienced will help me going through this week. I think this week is going to be a much better week.
Comfortable
"I think just because I've already felt that kind of pressure, I think that's why I don't feel it as much. I feel a lot more comfortable. I feel like I have experienced something that was so big.
"This week is still very big pressure for me but the experience has helped me a lot. I feel more comfortable going into this week, that's for sure. I feel like the pressure is my friend now."
World No 2 Stacy Lewis took full advantage of Park's struggles at St Andrews to claim her second major title and has finished second in the Evian Masters for the last two years.
"I really don't think this tournament changes a lot for the players," the American said of the event's new status as a major.
"This was one of our biggest purses anyway. It's still a good tournament you are trying to win, so whether it has a major title or not doesn't really matter to me.
"It is nice coming back. The last two years I obviously played really well here. I have good memories, so it's nice coming back to that.
"A little disappointed that the golf course is different just because I played well on the other one, but it is what it is and you go out there and try do this again."