Italian Open: Julien Quesne was surprised his round of 67 was enough to win in Turin
Julien Quesne admitted victory had come as a surprise after he won his second European Tour event in as many years.
Last Updated: 22/09/13 7:05pm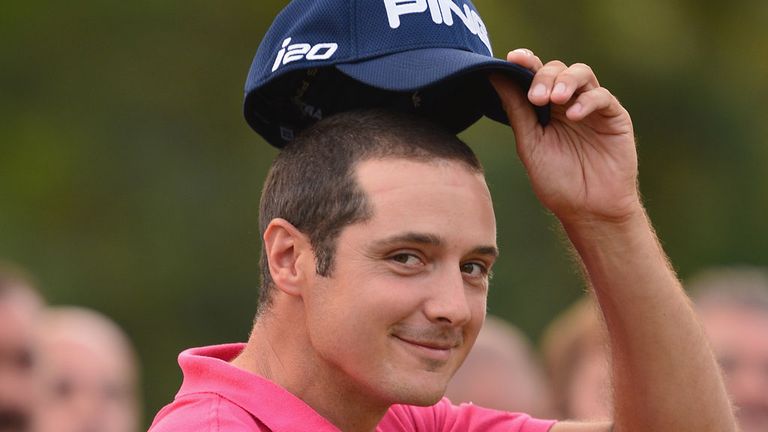 Quesne began the day four shots behind Australian Marcus Fraser but made his task much harder by double-bogeying the second hole.
But he battled back with seven birdies to record a round of 67 to win the tournament in Turin by a shot.
"After my double bogey I just kept calm," he said. "I was thinking the winner would be 15 under and I was only five under. I thought 'just keep working and we will see what happens'.
"I am surprised to be here. The flags were very difficult all week so it was very difficult to make birdies and easy to make some bogeys."
Ireland's David Higgins finished in a tie for second, giving him hopes of avoiding a 14th visit to the dreaded Q-school.
Higgins, who had managed just one previous top-three finish in more than 200 European Tour events, birdied the 18th to match playing partner Steve Webster's closing 68, the 2005 champion having threatened to claim his second Italian Open title when he holed from 60ft across the 17th green.
"I was very lucky on the last, I hit an awful tee shot but got a good lie in the fairway bunker," Higgins said. "You still have to play the shot and I did and got the putt so I was delighted.
"I thought 'How many chances am I going to get of maybe tying for the lead?' so I said 'come on, you've got to at least give it a good run and be positive with it', and it went right in the middle.
"I had good practice rounds at the start of the week and I am proud of myself for taking that into the competition itself. I haven't had a finish like this in 17 years so I am delighted. I can do it and I just have to do it more often I guess."