Perth International: Peter Hedblom in share of lead as he chases European Tour card
Peter Hedblom shares a tie for the lead of the Perth International as he chases a victory to secure his Tour card.
Last Updated: 17/10/13 11:42am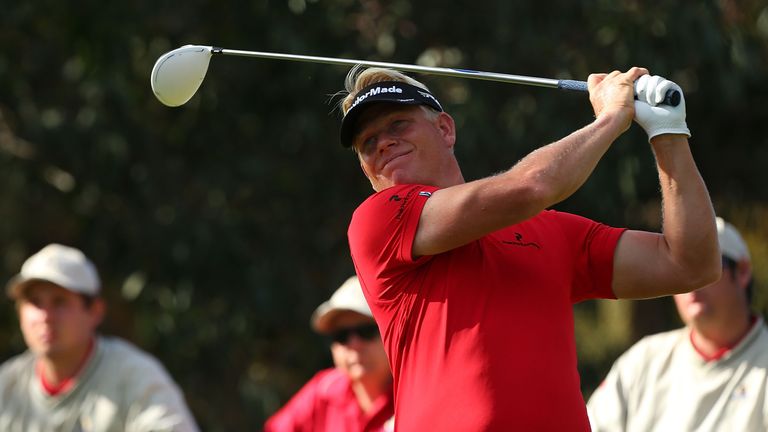 The 43-year-old was one of four men to shoot 68 at Lake Karrinyup to sit on four-under at the top of the leaderboard, as he makes a last-gasp effort to keep his Tour card.
Hedblom is joined by Korea's Jin Jeong and Australians James Nitties and Clint Rice in the first round lead.
The three-time winner on the European Tour is sat down in 179th in the Race to Dubai standings and needs a win in Perth this week to move into the top 110 that will be guaranteed cards for next season's Tour.
World No 830 Hedblom kept his card at Qualifying School last season but would like to avoid a return trip, and his six birdies against two bogeys gave him a solid start in his bid.
"I'm so far back I need a win or to finish second really," said Hedblom, who insisted he was not more tense than at a normal tournament.
"You have nothing to hold back; you just have to go for everything. You're not happy to finish third or fourth or fifth or sixth or tenth, just play as good as you can.
Tension
"The tension is nothing really. Today it felt like any tournament - if I will be leading playing the last day, then maybe I'll feel the tension, but right now it's just one round out of four. It's good to at least have a chance to do it.
"The game is there, you just need a little bit of confidence."
Pre-tournament favourite Dustin Johnson leads the chasing pack as part of an eight-man group a shot behind the leaders on three-under.
"I played pretty well," said Johnson, who is recovering from a slight illness. "I missed a couple short putts, but other than that, I hit it pretty well.
"I just have a little bit of a cough which is okay - I'm back to where I feel good enough to play good golf."
Englishman Sam Little and Swede Fredrik Andersson Hed, who is also battling to keep his card, are on three-under while defending champion Bo Van Pelt started off his defence with a two-under round of 70.
It was a shaky start for a few players in and around that magical 110th spot in the Race to Dubai, with Alex Levy (108th), Richard Bland (109th) and James Kingston (111th) all finishing two-over for their rounds.
That will mean for a nervous second round for them, along with Peter Lawrie who was one-over for his first round and needs a big finish as he currently sits in 114th and just outside the mark for keeping his card.