Welcome to Turkey
This week Turkey stages its first European Tour event. Dave Tindall goes behind the scenes to find out more.
Last Updated: 06/11/13 3:09pm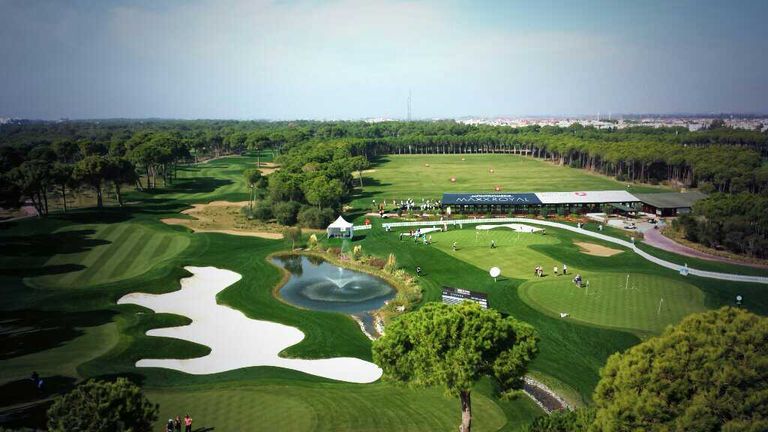 Turkey first dipped its toes into the water on a world stage when hosting last year's Turkish Airlines World Golf Final.
It made a big impact, attracting eight of the world's best players and handing out a huge first prize ($1.5m) to winner Justin Rose.
Shortly after, there came the announcement that the country would be hosting its first European Tour event.
Not one that might go unnoticed in a quiet part of the schedule but the third leg of a new four-tournament Final Series designed to give the European Tour the same extended flourish to the season which had been implemented on the PGA Tour.
The Race To Dubai would now mimic the FedExCup series and, by putting on the penultimate event, Turkey were announcing themselves as serious players on the world stage.
To prove it further, Tiger Woods was signed up to headline the tournament and his arrival along with a world-class supporting cast has created a huge buzz around the event.
Using a course - the Montgomerie Maxx Royal - designed by eight-time European No 1 Monty has also given the event immediate gravitas so already this looks an excellent addition to the European Tour schedule.
Most golf fans who watch the action unfold on Sky Sports each week will often imagine what it might be like to visit the venue and play the course itself.
So if you fancy a trip to Turkey to watch this event and/or play some golf yourself here, here's the lowdown from Dave Tindall.
Getting there from the UK
Turkish Airlines, the sponsors of this week's tournament, have just been voted Best Airline in Europe for the third year running so are the ideal carrier to get you out to Turkey. Experience the leg room and excellent menu and you'll quickly see why.
Arrival in Turkey
Having never been to this part of the world, I'd spent the train journey to Manchester airport wondering if Turkey was in the EU and whether I should have dug out some spare Euros. It isn't. Turkish Lira is the currency and the rough rate at the time of writing is three Lira to every British Pound so a 20 Lira note is worth about £6.66. Ah, and don't forget the VISA! I was rather alarmed to be told about this when trying to clear customs in Istanbul as they'd made no mention of it in Manchester. It's not a problem though. For those who haven't signed up (online) beforehand you can queue up (it took me 10 minutes) and buy one from a booth near passport control. Cost = £10 but you have to pay in cash (pounds or Euros) as no cards are allowed.
Getting to the Montgomerie Maxx Royal
This involves a change in Istanbul airport and then an internal flight to Antalya. To Istanbul the flight from Manchester is around 3hrs 40 mins while the internal flight is just over an hour. They're popular though and both myself and European Tour pro John Parry had a six-hour wait in Istanbul (I read Morrissey's autobiography, he watched Monday Night Football on Sky Go). Plan ahead and this long wait is easily avoided. The final leg of the journey is a 30-minute ride from Antalya airport via a Shuttle bus. Turkey is two hours ahead of UK at this time of year.
The Maxx Royal Belek Golf & Spa hotel
If you want to be right in the thick of the action, the Maxx Royal is a spectacular venue. Great for families and couples (30 of this week's 78-man field have partners/children with them), it was recently voted the world's best honeymoon destination and also came fourth in the world's top 100 hotels. There are 531 guest rooms which include six Maldive villas and over 30 deluxe villas located around the course which have private swimming pools, Turkish baths and balconies with superb views of Monty's layout.
Kids will certainly love Maxxi Land which boasts two cinemas, an aqua park (with 11 slides!), seven swimming pools and Dinoland (where they can interact with life-size dinosaurs). Also look out for the Royal Horse Lounge which has two 10-pin bowling alleys, pool tables and games consoles. If you don't stay here, there are many other excellent hotels nearby and, as you'll notice when entering Belek and seeing the signs for driving ranges and golf equipment, the region has really set itself up as a genuine golfing destination.
The Montgomerie Maxx Royal course
Opened in 2008, Monty designed the course in conjunction with European Golf Design. For this week's event, the par 72 (which features 5 par fives, 5 par threes and just 8 par fours) measures 7,151 yards. Very tree-lined and with water in play on several holes the design is very much based on one of Monty's favourite courses, Pine Valley, in the US. It's not overly long so it's not too daunting for holiday golfers.
Champ's endorsement
Justin Rose, who won last year's Turkish Airlines World Golf Final, speaking at his pre-tournament press conference: "Turkey wasn't on my radar as a golfing destination in terms of holiday golf and people trying to escape a harsh winter in Europe. But, as we all see outside, it's beautiful weather and perfect conditions for golf. It's a great golfing destination; that's what I learned last year."
Anyone who visits this part of the world will come away with a very similar viewpoint.
For more info and rates, go to: http://www.maxxroyal.com/