Rory McIlroy hopes to silence doubters at DP World Tour Championship
Rory McIlroy has reflected on a turbulent year ahead of his defence of the DP World Tour Championship in Dubai.
Last Updated: 13/11/13 9:35am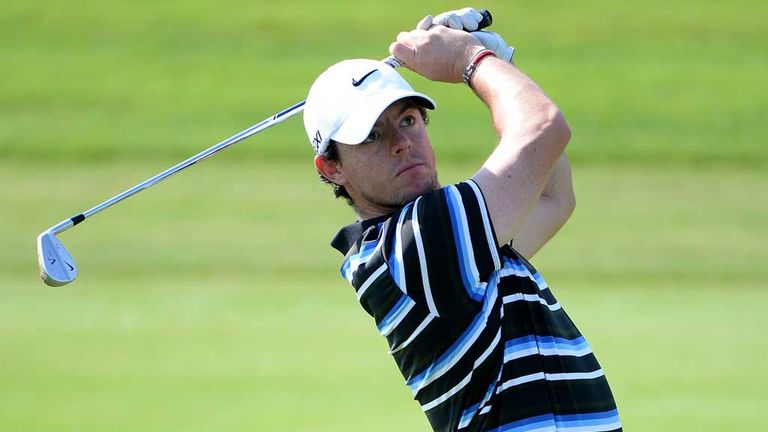 The 24-year-old added the Race to Dubai crown to his PGA Tour Money List title when he birdied the last five holes to clinch a two-shot win over Justin Rose at Jumeirah Golf Estates 12 months ago.
But McIlroy has endured a horrific 2013 campaign which has so far failed to yield a victory and has been blighted by issues both on and off the course.
"It's been an interesting year," said the world No 6, who is languishing at 46th in the Race to Dubai standings ahead of the season finale.
"Obviously a lot of stuff has gone on, both on and off the course. Every year that I've come here, apart from 2010, I've been in the mix to win the Race to Dubai.
"It's a little bit different coming in this week and not having much to play for in terms of that, but I still want to try and finish the season off really strongly.
"I feel like this course really suits my game. I know it would be a great way to cap off the European season with a win."
McIlroy has struggled since switching to Nike equipment in January, while an ongoing legal battle with his former management company has also been an unwelcome distraction.
"There's definitely been a few things that have impacted (on my performance on the course)," McIlroy added. "I've had a few different things to think about and different things that occupy your head that really shouldn't.
"It's something that will be sorted out hopefully sooner rather than later. That's the way it is and comes with the territory I guess.
Adversity
"I've got people to handle that sort of stuff for me and I only see a fraction of it, the stuff that I really want to see. But again it's something that shouldn't be in my mind. It's something that I don't really think any athlete or anyone should ever go through.
"I've seen more lawyers this year than I care to see in my entire life. It's not something I ever want to go through again and I'm making sure that I won't ever go through it again."
McIlroy was in danger of missing out on this week's event until finishing sixth in the WGC-HSBC Champions in Shanghai, only his third top-10 finish on the European Tour this season.
But the Ryder Cup star feels he is on the right track and remains determined to defy his critics in Dubai this week.
"I guess I learnt last year how to deal with the hype and this year I've learned to deal with criticism," he added. "Every year for me is still a new experience.
"I feel I've always thrived on adversity. I think back to the times when I had the collapse at the Masters and I came back and won the US Open because I wanted to prove to myself and other people that wasn't who I am and that's not the way I play under pressure.
"Last year at the US PGA was the same sort of thing. I went through a little lull of three or four months and people started to question things and I like proving people wrong.
"It's something that I have to keep doing every year and hopefully I do that again this year as well."
Live coverage of the season-ending DP World Tour Championship starts at 8am on Sky Sports 4