Carlos del Moral cards 63 at the European Tour's Qualifying School in Spain
Carlos del Moral carded a sparkling 63 as he grabbed the lead at the European Tour's Qualifying School in Spain.
Last Updated: 13/11/13 8:02pm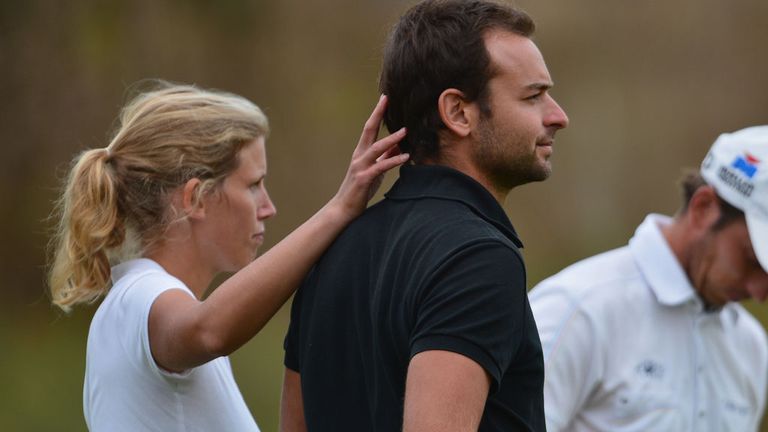 With two rounds still to play, the 28-year-old from Valencia holds a one-stroke advantage over Fabrizio Zanotti and Daniel Brooks, both of whom enjoyed bogey-free days over the Stadium Course at Girona.
New leader del Moral, who teed off in a tie-for-26th, posted seven birdies and an eagle in 13 holes from the third to put himself in pole position to re-claim his Tour card.
Paraguay's Zanotti shot 68, while Englishman Brooks had a 66.
At the end of 108 holes on Friday, the leading 25 pros and ties will earn their cards for the 2014 season.
At present, the leading 35 players are separated by just seven strokes with Wednesday's cut leaving 71 golfers to fight it out over the final 36 holes.
The last two rounds will be staged over the Stadium Course, which shared duties with the Tour course over the first four days, and this pleases del Moral whose caddy this week is his girlfriend.
He said: "I feel much more comfortable playing this tougher Stadium Course.
"I just feel a lot looser playing it. The Tour course feels a little smaller.
Tougher
"I'm looking forward to the next two rounds on this course, especially when the other guys seem to think it is tougher.
"I know it sounds silly but I don't feel like that. I seem to know this one much better."
As for some of the bigger names returning on Thursday for the fifth round, 2008 Ryder Cup rookie Oliver Wilson is tied-for-36th and remains well in the hunt.
Wilson is one stroke behind Bradley Dredge, Fredrik Andersson Hed and Richard Finch.
One of those scraping into the final two rounds is Ben Evans who covered the back nine on Wednesday in 31 shots - including a birdie three at the last - to make the cut without a stroke to spare. At two-under-par, Evans is 12 strokes adrift of del Moral.
But disappointment for a trio of three-time European Tour winners Pablo Martin, Johan Edfors and Nick Dougherty.
Martin, whose fourth round 65 closed him to within three shots of the cut mark, will rue a 78 on Tuesday, while Edfors and Dougherty missed out by nine and 11 strokes respectively.