Rory McIlroy has expressed sympathy with England cricketer Jonathan Trott
Rory McIlroy has expressed sympathy with England batsman Jonathan Trott ahead of this week's Australian Open in Sydney.
Last Updated: 27/11/13 12:34pm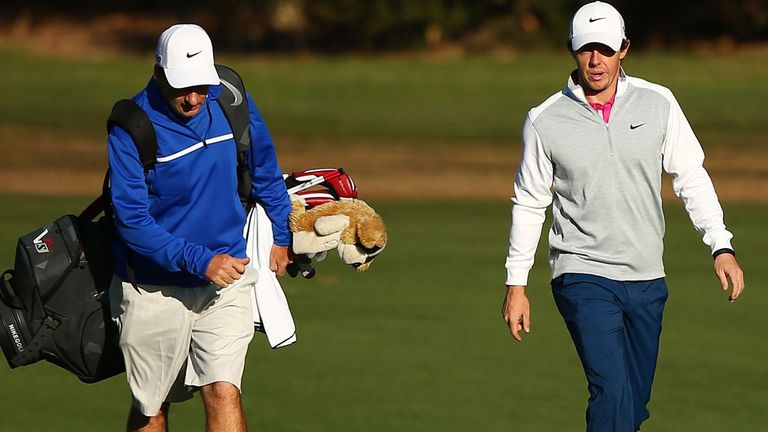 Trott flew home to England at the start of the week in order to try and deal with a stress-related illness that will now see him miss the remainder of the Ashes tour.
A confessed cricket fan, McIlroy is aware of Trott's plight and claims it underlines the severe pressures that sportsmen find themselves under.
"It's becoming more and more common that these sorts of stress-related illnesses are happening and it just shows how much of a mental toll it takes on you sometimes," said McIlroy, who is in Australia to compete in this week's Australian Open at Royal Sydney.
"It's sad to see something like that happen... hopefully he gets home and spends some time with his family and recovers and can come back.
"I guess it's becoming more and more, as sport becomes so big and there's so much pressure and so much on the line."
McIlroy went on to acknowledge that he himself has found 2013 to be a 'mentally draining year' having endured plenty of stressful situations both on and off the golf course.
The World No 6 from Northern Ireland is without a victory in over 12 months and has been involved in a couple of multi-million dollar legal cases, prompting him to say last week: "I've seen more lawyers offices and more lawyers this year than I care to see in my entire life."
Targeting a victory
The 24-year-old still has two more chances to break his duck during the current calendar year; at Sydney this week and then in California when he takes part in Tiger Woods' World Challenge event at Sherwood Country Club.
In 2012, McIlroy won four of his last nine events - and five times in all - while this year he has only posted a brace of top-three finishes - in Texas and Korea.
McIlroy said: "I'm looking forward to a break after playing Tiger's event next week as it's been a long year mentally for me rather than physically.
"Physically, golf doesn't take that much out of you, but mentally it is quite draining.
"And especially for me this year, not just being frustrated with my game but having to answer all the questions and come up with reasons why I am not playing well and all that stuff.
"But then it's great to be going into the off-season feeling comfortable with my game and knowing that I am on the right track and knowing that I can start the new season strongly.
"So I am excited about that aspect and besides I still have two tournaments left this year and I would love to get a win, whether it is here or in Tiger's event."
Watch the Australian Open live all week on Sky Sports