Hong Kong Open: David Higgins leads with Joonas Granberg disqualified
Ireland's David Higgins leads by a shot after an eventful first day in Hong Kong which saw Joonas Granberg disqualified.
Last Updated: 05/12/13 2:51pm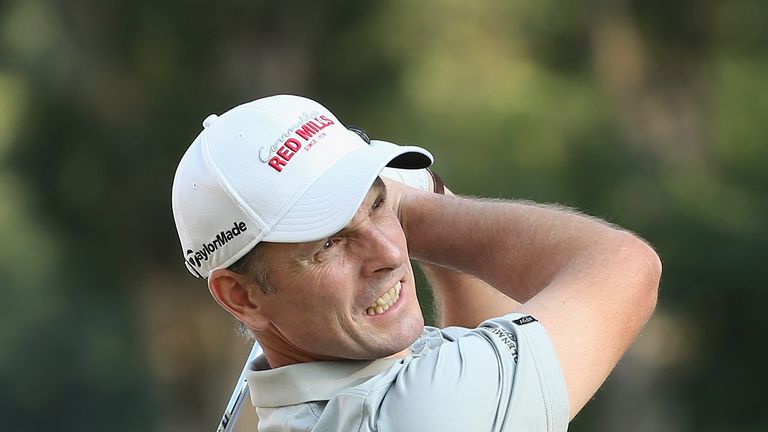 Higgins, who lost his European Tour card last season, fired nine birdies in his six-under round of 64 to lead Challenge Tour winner Andrea Pavan by a shot with a host of players one further back on four-under.
Disqualifications hit the headlines on day one though, with Granberg excluded for missing his tee-time and Sjoholm desperately close to joining him for the same reason.
Granberg was due to tee off at 11:50am local time from the 11th hole at Hong Kong Golf Club, but initially went to the first tee before realising his mistake.
The 26-year-old then dashed to the 11th tee only to find his caddie had gone to the 10th tee - the more usual starting place for a two-tee start - instead. That meant a missed tee time and disqualification - a fate Sjoholm was lucky to avoid.
"I set six alarm clocks this morning and woke up in desperation at 7:58am, tee time was 8:30am and we live a good 25 minutes from here so I was panicking to the tee box," Sjoholm told European Tour Radio.
Shoe emergency
"I was lucky to get a taxi pretty quickly and the European Tour helped me out big time because I showed up without any golf shoes on because they were in the locker.
"They went to the locker for me and I played the first hole in sneakers until I came up to the green when they were standing nicely there with two pairs of shoes so I could pick. It was the royal treatment!
"It felt quite awkward and when I was standing over the first tee shot I realised I hadn't even tied the laces on my sneakers, which are a half size too big as well.
"I managed to scramble a four on the first; the whole day I have just been waiting to make a bogey and it happened on the last hole.
"I am happy I shot minus two - I should not even be here. I am really happy at the moment. Maybe I should do it more often because it's a long time since I started that good."
Sjoholm's round of 68 left him four shots off the pace, while defending champion Miguel Angel Jimenez had a disappointing start with a level par round of 70 leaving him six shots off the lead.