Gary Player and Ernie Els mourn the death of Nelson Mandela
Gary Player and Ernie Els have led the tributes from the golfing world to Nelson Mandela.
Last Updated: 06/12/13 9:10am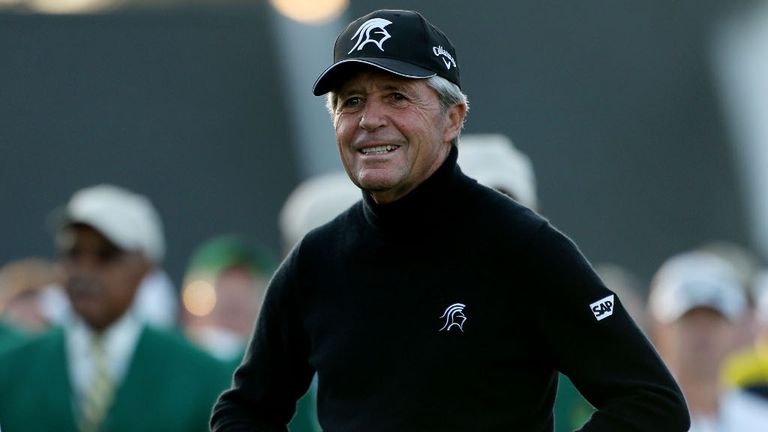 Player was one of the top golfers in the world during the infamous apartheid era in his homeland, and he played a role in the campaign to release Mandela from prison.
The nine-time major winner said: "It was with great sadness that I learned of the passing of our beloved Madiba, President Nelson Mandela.
"Nelson Mandela is one of the great heroes in my life and I believe he did more for our country than any other person in our history.
"As a proud South African, I am certain Mandela's legacy will endure in our nation and across the world as a figure of courage, value, spirit, and above all else, love.
"I commend him for all that he did over his 95 years. He was a courageous leader who fought for all that is right, and he possessed an aura that inspired people, and our nation, to change for the better.
"When I was a young man, I stated that Madiba should be released from prison, where he spent twenty-seven years. I was labelled a traitor, yet paid no mind.
"Time would prove that decision right. Moreover, time would prove how truly special he was after emerging from prison with no hatred or revenge. He was never broken, just empowered.
"Our nation enters into a time of mourning, but also a celebration of his great life and the spirit he instilled in our nation.
"May we all lovingly remember our truly remarkable former President and the father of our nation. Thank you, Madiba.
"My thoughts and prayers are with the Mandela family."
Els tribute
Els is currently competing in the Nedbank Golf Challenge in Sun City, where flags will be flown at half-mast for the remainder of the tournament.
"It is a very sad day," said Els, who won the first of his four majors a month after Mandela was elected South African president in 1994.
"A very sad day for South Africa and the world really. We have lost one of the iconic leaders of our time.
"You cannot say anything bad about the man. He fought for what he believed in, went to prison for so many years and came out to lead our country up until now.
"He was the father of our country and our continent. It's just very sad that he had to go.
"He was 95 and led a full life but a lot of that wasn't spent on what he was so good at because he was away for so many years.
"He always felt proud of what the sporting athletes out of South Africa did for the country, you know, winning worldwide events.
"He always felt very proud of that. When I won a lot of tournaments in the '90s and early part of the 2000s we spoke a lot on the telephone.
"Through that instance we had a really nice relationship. I haven't seen him for probably seven or eight years now. But we've always had a great relationship."