Ernie Els mourns the death of his former psychologist Jos Vanstiphout
Ernie Els has paid a glowing tribute to renowned sports psychologist Jos Vanstiphout, who died on Friday aged 62.
Last Updated: 09/12/13 1:54pm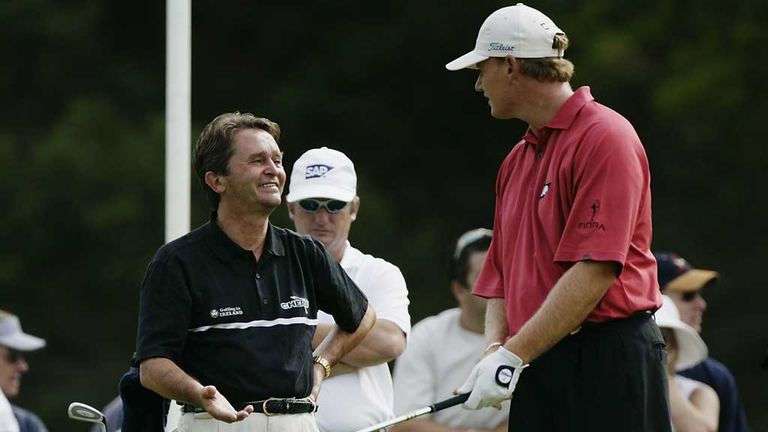 The Belgian worked with a number of high-profile golfers after proving his skills as a "mind coach" on the European Tour.
Vanstiphout worked with Retief Goosen prior to his US Open victory in 2001, when he beat Mark Brooks in an 18-hole play-off having three-putted from 12 feet on the final green in regulation.
But his most famous pupil was Els, who gave Vanstiphout huge credit for helping him win his first Open Championship crown in 2002.
"It's really devastating for me," said Els. "He meant so much to my career. We really connected and there was a genuine love for each other there.
"It was love-hate at times as everyone will know but the stuff he taught me and the way that he did it was totally different. His approach was unique and I know he got under a lot of people's skin but for me he was just brilliant.
"He gave me the absolute honest truth at exactly the times when I really needed it. The biggest one was obviously Muirfield in 2002 and he took me to one side and was just all over me.
"He just told me to pull my finger out of my backside in no uncertain terms and told me to do what he had trained me to do.
"He taught me to think in a certain way and was so good for me. He really helped me win that Open, no question. We probably won 25 tournaments together in a short period.
"I will never forget the time I shot 60 at Royal Melbourne. I walk on to the range and he is all over me again. I said 'what?' and he looked at me and he said 'you know and I know that you should have shot 58'!
"That was the way he was and he knew me very well and was one of the only people who could say that to me."
Vanstiphout had struggled with ill health since breaking his hip in a fall from a ladder two years ago, and in recent months he had complained of regular breathing difficulties.
He is believed to have suffered a heart attack on Friday, and Els added: "It's really tough. I was hoping that he would have pulled through but he had gone downhill since the accident.
"Hopefully he is in a good place right now because he was a fighter. He had a lot of bravado but deep down he was a genuine, genuine man.
"He didn't have the education but he understood the psychology of how things worked and he gave that to me.
"I will be forever grateful to him for that. He changed my life and I am really going to miss him. I know you shouldn't have regrets but I regret not seeing him before he left us."