Thailand Golf Championship: Justin Rose admits US Open win still sinking in
Justin Rose admits his US Open win is still sinking in as he closes a memorable 2013 at the Thailand Golf Championship.
Last Updated: 10/12/13 12:05pm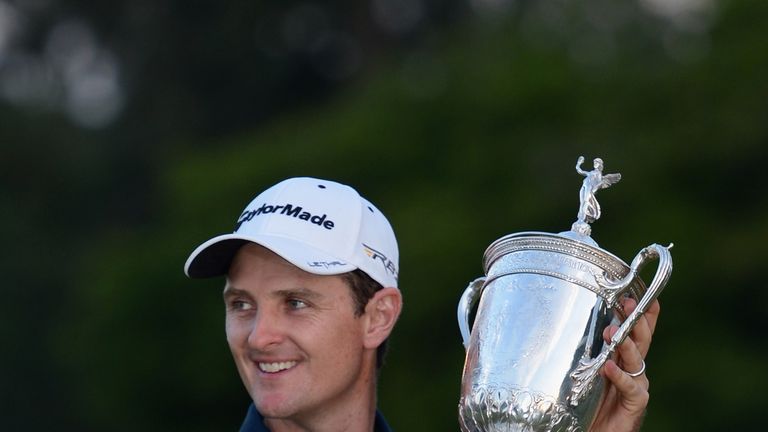 World No 4 Rose will make his debut at the Amata Spring Country Club as he looks for the perfect end to a perfect season which saw him lift his maiden major title.
Rose became the first Englishman to win the US Open in 43 years with his brilliant two-shot win at a testing Merion course near Philadelphia.
The 33-year-old had a tough start to his professional career but was then touted for a major win for some time before finally hoisting one of golf's big four prizes.
While that achievement is still sinking in, Rose insists that he is hungry for more titles after feeling the relief at getting the first major under his belt.
"Wining a major, it's still sinking in," Rose admitted. "It's an amazing feeling and a lot of relief. A lot of great players haven't won a major and to get that monkey off my back is fantastic.
"It takes off a lot of pressure. As a kid growing up, I always dreamed of winning a major and it's nice to have that. At this point of my career, it's not time to reminisce; I am motivated to win more."
Emotions
Rose still remembers the high emotions that were running as he sank his putt on the 18th at Merion on Father's Day, as he remembered his late father Ken, who died from leukaemia in 2002.
"To also do it on Father's Day, it was an amazing feeling to share with my late father," Rose added.
"I've seen my good friends Rory and GMac hugging their fathers (after winning the US Open) and I thought I would never feel that. I was surprised how good it felt, I could feel my late dad was with me that day."
A perfect end to 2013 would be for Rose to pick up the title at a star-studded Thailand Golf Championship with the likes of Henrik Stenson, Sergio Garcia, Bubba Watson and Rickie Fowler all involved.
Rose spoke at a preview launch hours after landing in Bangkok but was already delighted with how the tournament was shaping up.
"My first 15 hours has been fantastic," Rose added. "We've been treated well, the hotel is fantastic and turning up for a press conference by boat and seeing some iconic landmarks in Bangkok is a perfect way to start the week."