Miguel Angel Jimenez chasing record-breaking Ryder Cup place at Gleneagles
Miguel Angel Jimenez is certain he will be involved at this year's Ryder Cup as either a player or a vice-captain.
Last Updated: 08/01/14 5:23pm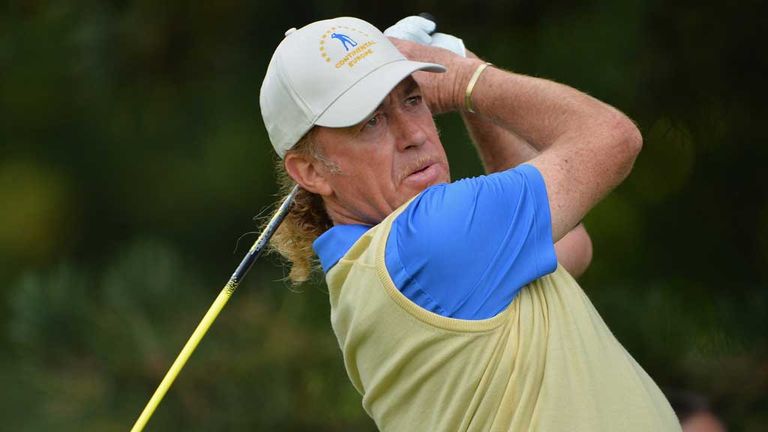 The charismatic Spaniard celebrated his 50th birthday on Sunday, but he remains in excellent form having lifted his 20th European Tour title when he defended his Hong Kong Open crown in December.
That victory, which extended his own record as the oldest winner in Tour history, earned him a place in the elite field for this week's Volvo Golf Champions in Durban.
A fifth appearance in the Ryder Cup would also see him become Europe's oldest player in the competition's history, surpassing Ted Ray who was 50 years, two months and five days old at the inaugural contest in 1927.
"If I play well I believe I will be on the team," said Jimenez, who has won 13 of his 20 European Tour titles since turning 40.
"It's very difficult to maintain a high level, but if my game is there I will be there. It would mean a lot to me, it's still breaking records."
McGinley, who was a vice-captain alongside Jimenez for the 'Miracle at Medinah' in 2012, has said he will not name his assistants until May or June so he can have a better idea of how the team is shaping up.
But Jimenez added: "We had a few words and he wants me to be a captain in the EurAsia Cup (a team event between Asia and Europe in March).
"I'm going to do that and if I'm not on the Ryder Cup team, probably I will be helping him (at Gleneagles).
"But I am going to keep working hard on my game because I would like to be there with the clubs in the hands.
"If you are not playing well, you don't want to be on the team, it's a lot of responsibility. It means a lot to me and many players and you need to know that you are in good shape."
Jimenez is now eligible for the Seniors Tour and has confirmed he will compete in the Senior British Open at Royal Porthcawl this summer, but has no intention of joining the likes of Colin Montgomerie and Bernhard Langer on a full-time basis.
"I turned 50 but I look in the mirror and I see the same guy, he hasn't changed," added Jimenez, who feared his career was over when he broke his leg in a skiing accident in December 2012.
"When I turned 40, I had five victories and it was the most successful year I've had. The golf I played at that moment was unbelievable. I still play very well, I still hit the same distance.
"I know that you cannot win every time, but I feel like I can be in contention and win tournaments because I'm still here.
"If I play well and the best I can do is 15th, then I can pack in golf. For me, coming on the Tour just to get a salary, it's better to go home.
"The motivation and why I work, why I keep doing what I'm doing, it's because I love to compete with the best and I want to win."