Padraig Harington forced to switch caddies at Volvo Golf Champions
Padraig Harrington paid tribute to his stand-in caddie after his regular bagman fell ill at the Volvo Champions.
Last Updated: 10/01/14 5:25pm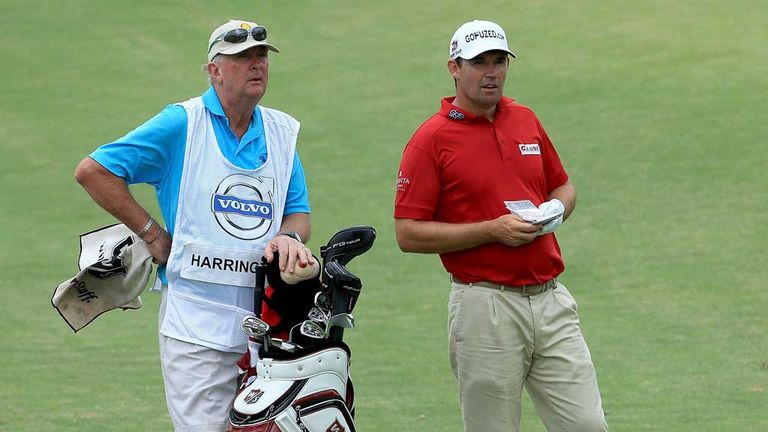 The Irishman was forced to switch caddies on the sixth hole when Flood, Harrington's brother-in-law, was forced to seek medical attention due to a severe bout of food poisoning.
Flood was taken to the clubhouse at the Durban Country Club and treated by doctors, although he is expected to be fit to return to Harrington's side for the third round.
Flood was replaced for the remainder of the round by Pat Cashman, a 65-year-old Irish photographer who has known the three-time major champion for 35 years.
Cashman was in the gallery following his compatriot while in South Africa on holiday, and Harrington shrugged off the drama to fire a second consecutive 71 to finish two under par.
Harrington said afterwards: "Ronan felt like he needed to throw up and as he went out on the course he thought it would clear a bit but it got worse and worse and for him to give up....I don't think I have ever seen him do that in any circumstances.
"He felt like he was getting in the way and when we finally said goodbye he could not physically stand up. I really did feel bad because he was lying there but thankfully there was a friend of ours out there who holidays down here and he took over.
"He started off like he was carrying bows and arrows but by the end he had the double-strap going (on the bag) and was using all the lingo.
"It's amazing how much caddies do for you and it gives you a new appreciation for what they do out there. I know now why we pay them the big bucks!"
Cashman, who has never caddied before but is a member with Flood at the Heritage in Ireland, said: "The bag was lighter than I expected. It was very comfortable.
"I saw Ronan on the range and he looked awful. I said if you need help, call me. They sent out a replacement caddie but Padraig asked if I would be happy to continue and I was. I told him I wouldn't give him a line or a club but he was so easy to work for.
"I've given him my phone number if he needs me but hopefully Ronan will be okay."