Simon Dyson putting suspended ban behind him in Abu Dhabi
Simon Dyson is determined to put the worst moment of his career behind him as he returns to action in Abu Dhabi.
Last Updated: 15/01/14 1:22pm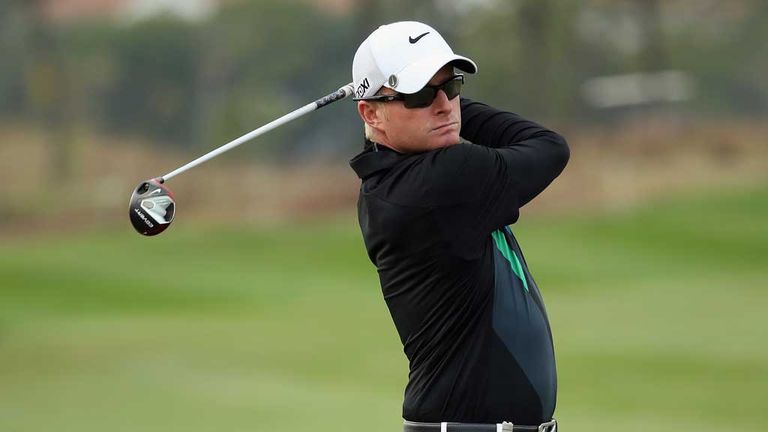 The Englishman tees up at the star-studded Abu Dhabi Championship for his first appearance since being handed a suspended two-month ban.
Dyson avoided an outright suspension following an incident at the BMW Masters in October, where he was disqualified while lying in a tie for second at the halfway stage.
The 36-year-old was adjuged to have touched the line of his putt on the eighth green at Lake Malaren, when he used his ball to tap down a spike mark.
Television viewers alerted tournament organisers, who disqualified Dyson for signing for an incorrect score having not added a two-shot penalty to his card.
Dyson was then charged with a serious breach of the European Tour's code of behaviour, and he was summoned appeared before a disciplinary panel at Wentworth in December.
He was found guilty of deliberately pressed down the spike mark to improve his position, although he was cleared of "a premeditated act of cheating" and given a two-month ban, suspended for 18 months, and fined £30,000.
Asked if he had been through the lowest point of his career, Dyson said: "Yeah, massively. I don't think you can get any worse really.
"The last two years I've not really enjoyed my golf and then to have it all topped off by that was... pretty low. There's only way it can go now, hopefully."
Support from peers
Dyson revealed he had received encouragement from his peers following his arrival in Abu Dhabi, although it has been reported that one player asked not to be grouped with him for the first two rounds.
"It's been really nice actually," Dyson told BBC Radio Five Live. "It's made me realise how much I do love the game. I fell out of love with the game the last couple of years a little bit and it's just nice to be back and playing and be amongst everyone again.
"I've had so much support from people who know me and they know that's not what I'm like. The support has been unbelievable. Everyone's just getting on with it.
"What's in the past is in the past and I can't do anything about it. That's the way I've looked at it since the day of the hearing really. As soon as it was over it was over. Me and my wife back home haven't spoken about it. I can just get on with it and am looking forward to starting afresh now.
"I've never done it in the past and I'll never do it in the future. There was no intent whatsoever to try to get an advantage. I'm just going to be very careful from now on, make sure I'm on the ball and be very professional about everything I do."
Asked about the reaction from his fellow professionals, Dyson said: "It's been great. I can't say enough about them really. Nobody has said anything. Everyone has been coming up and talking to me.
"It's gone now and there isn't anything anybody can say or do that will change what happened. I wish I could, but nobody can. I just have to get on with it and carry on."
Former world number one Luke Donald, a close friend of Dyson, said: "I have spoken to him but I haven't talked to him about the incident.
"The vibe and body language I got from him was that he feels very bad about what happened and wants to make up for it and hopefully he can put this behind him and act the way he should. Hopefully it doesn't happen again."
Find out how Dyson fares when coverage of the Abu Dhabi Championship starts Thursday at 6am on Sky Sports 4