Abu Dhabi Championship: Rory McIlroy relieved to focus on golf after turbulent 2013
Rory McIlroy is confident he can get his career back on track as he looks to bounce back from a torrid 2013.
Last Updated: 15/01/14 3:30pm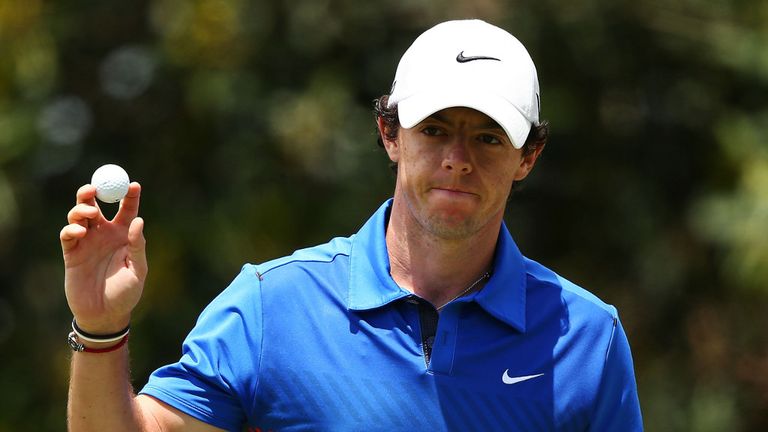 The 24-year-old Northern Irishman started last year as world No 1 after winning Money List titles on both sides of the Atlantic and storming to his second major victory at the US PGA Championship.
But after signing a lucrative deal with Nike, McIlroy's 2013 campaign was hampered by problems adapting to his new equipment as well as being involved in two bitter legal disputes.
One of those has been settled and McIlroy's recent engagement to tennis star Caroline Wozniacki, after persistent rumours in 2013 that they had split, has significantly lifted his spirits.
Ahead of the Abu Dhabi Championship, McIlroy admitted his mood was "a polar opposite" to this time last year.
"It was a distraction," McIlroy said of his off-course issues. "You're thinking of other things when you really shouldn't have to. But it's the last year I'm ever going to have to go through something like that.
Smarter
"I've learned from it and I'm smarter because of it. It's great that I've gone through it at this stage in my career and not 15 years down the line.
"There was loads of stuff going on around me and that didn't let me focus 100 per cent on what I needed to do. This year is the polar opposite.
"Everything just seems to have fallen into place nicely and I can just go out there and focus on my golf."
He avoided ending 2013 without a win when he pipped Adam Scott to the Australian Open title, and Open champion Phil Mickelson believes McIlroy will once again be a force to be reckoned with this year.
"I think he's going to have a great year, I really do," said Mickelson. "I think he's too talented to have another year like last year. You saw glimpses of his game being sharp with his win in Australia in December and I think he's going to have a great year.
"We all have highs and lows. We all have good years and years that are not up to our expectations and usually that makes us more determined, which is what I see out of him."