Spain's Sergio Garcia admits regret over bust-up with Tiger Woods last year
Sergio Garcia has admitted he struggled with his game for three months after his infamous bust-up with Tiger Woods.
Last Updated: 15/01/14 2:21pm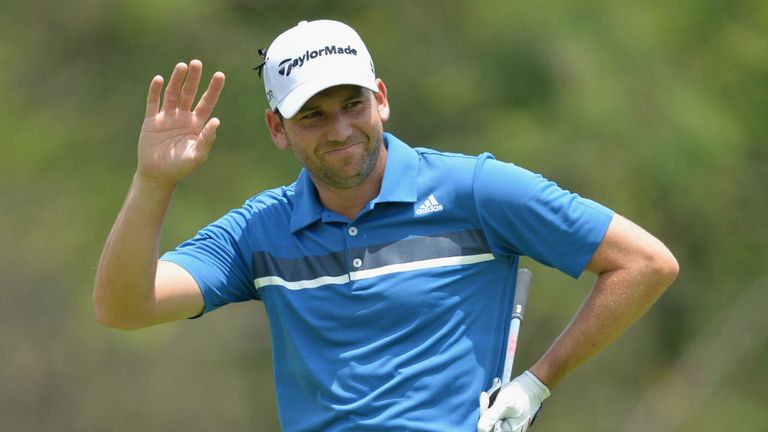 The Spaniard was forced to apologise to the world No 1 for the "stupid and out of place" comments he made while attending the European Tour's annual awards ceremony at Wentworth in May.
The 34-year-old had been involved in a row with Woods at the Players Championship earlier that month, and he was asked if he would consider inviting Woods to dinner at the US Open to settle their differences.
"We will have him round every night," Garcia said. "We will serve fried chicken."
Garcia escaped punishment for the remarks, and he subsequently shook hands with Woods on the practice range at Merion and left the American a handwritten note in his locker after several attempts to apologise in person.
"If you take away probably about three months in the middle of the season where we all know what happened, I think the whole year was good," said Garcia ahead of this week's Abu Dhabi Golf Championship.
"I started the year very nicely with a lot of good, high finishes with three good chances of winning, and then I finished the year quite strongly again.
Ryder Cup goal
"That was nice to see. I think it was just the combination of confidence, feeling good about myself, feeling good on the golf course and just letting things happen a little bit.
"We all know how important the Ryder Cup is for all of us here, so it would be nice to get going like we did last year and make sure you get your nose way into that Ryder Cup team."
Asked how long it took to put his row with Woods behind him, Garcia added: "I don't know exactly how long, but it was probably a tough three months at least.
"But it was a good learning experience. I thought that we learned a lot from it and I think that it made us even stronger."
Garcia is now hoping to build on his encouraging form over the latter part of last year, which included a victory at the Thailand Golf Championship in December with girlfriend Katharina Boehm acting as his caddie.
"I wanted to keep going but she fired me!" Garcia joked. "It was something she wanted to do since we started dating and I thought that would be a good week, being the end of the year and maybe a little bit more relaxed.
"I think it turned out pretty good but I think we'll leave it; she has a good winning percentage at the moment."
Sergio is in action at this week's Abu Dhabi Championship. Watch the action unfold when coverage starts Thursday at 6am on Sky Sports 4