Sergio Garcia cleared of rules breach at Abu Dhabi Championship
Sergio Garcia admitted he felt "disgusted" after being investigated over a suspected rule breach in Abu Dhabi.
Last Updated: 17/01/14 4:43pm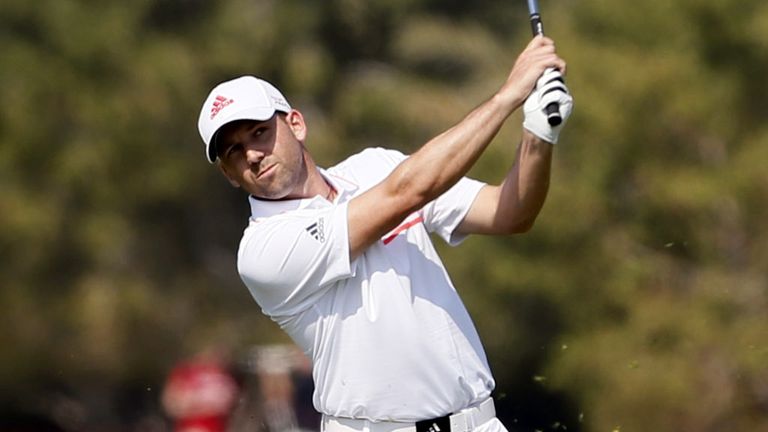 Video footage emerged of the Spaniard tapping down a blemish on the 18th green midway through his opening-round 76, and he was summoned to return to the scene ahead of the second round.
Garcia went back to the green with European Tour chief referee John Paramor, who was satisfied that the world No 10 had tapped down a pitch mark rather than a spike mark.
Flattening a spike mark would have incurred a two-shot penalty and resulted in Garcia being disqualified for signing for an incorrect scorecard.
"I talked to John and I said I'm pretty sure that it was a pitch mark that I repaired," said Garcia, who shook off the drama to fire a second-day 68 and survive the cut on level par.
"I think the confusion was that I repaired it and then Martin (Kaymer) was going to putt, so I backed away to let him putt. And then what you can see in the video is him putting, hitting it to tap it in and I'm tapping the pitch mark down. I think that's where everybody got confused.
"I went with John this morning to the green to the exact spot where my ball was, we looked at it and obviously you could see the ball mark there where it's supposed to be.
Disgusting
"It does feel quite bad to be related to that word, though, to the word cheating, when you have no proof and when I've never, ever cheated in my whole life. And I've given myself plenty of penalty strokes when nobody saw it and I did."
The incident is the latest in a long line to come to light via television viewers, but Garcia is not against such a process.
"I think the people that say that without having any proof, that's what's wrong," he added.
"If you can really tell, you can really see that it's wrong, that someone has cheated, it's fine, but not if you have no proof at all and you're just guessing what happened.
"Like I said before, being related to that word is the most disgusting thing that can happen to someone, and someone like me that has never, ever cheated."
Coincidentally, England's Simon Dyson returned to action in Abu Dhabi for the first time since being handed a suspended two-month ban by the European Tour for tapping down a spike mark with his ball during the BMW Masters in October.
But Dyson missed the cut by two shots after two rounds of 73.
Find out if Garcia can make a big move in the third round in Abu Dhabi. Live coverage starts Saturday at 9am on Sky Sports 4